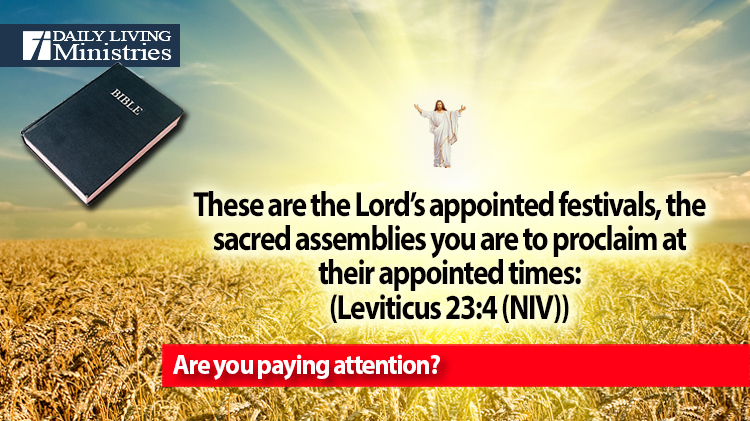 Be Still . . .
Devotionals for Daily Living ©
These are the Lord's appointed festivals, the sacred assemblies you are to proclaim at their appointed times:
(Leviticus 23:4 (NIV))
I love the fact that the Lord has given us things to look at that represent His perfect plan. The sad thing is that we, as the church, as the Body of Christ, do not fully understand the meanings of the events that are second nature to the Jewish community. In reciprocal nature, the Jewish community does not understand the symbolism of their events and how they point to Jesus as the one and only Messiah.
We look at the passage that says that no man knows the hour or the day and perhaps we miss the symbolism in that phrase. The next Jewish festival that is to occur is Rosh Hashanah. That festival, which means head of the year, is different every year for it depends on the moon to be just right. It is known as the festival that no man knows the hour or the day. For reference, Rosh Hashanah is celebrated as the anniversary of the creation of Adam and Eve.
I could probably go into many of the festivals and their symbolism, especially the ones that represent the events that transpired when Jesus walked the earth. Just suffice it to say that Jesus, as the Passover Lamb, went to the cross at Passover! He arose from the dead on First Fruits!
There are also many things within non-festival events, such as weddings, that point to Jesus. In a Jewish wedding, the bridegroom goes to prepare a place for his bride. Only when he is finished can the wedding take place. No one knows the day or the hour that he will return for his bride. Could this be a coincidence? For your information. this is where we get the parable of the ten virgins. I don't want to digress and go into that, for that is not what I am trying to convey. What is important is that when the bridegroom does return for his bride, she is lifted up into the air to meet her bridegroom!
We, as the Body of Christ, must realize that we have been grafted into a lineage and history that is completely Jewish. We must watch and learn. God is unfolding things according to His timing and His calendar. He has given us hints as to what He is doing. No one person has the complete understanding for the time is not yet come when God will sound the last trumpet!
But, . . .
We must watch!
Are you paying attention?
Copyright 1998 – 2022 Dennis J. Smock
Daily Living Ministries, Inc.
https://www.dailylivingministries.org
Support Daily Living Ministries
Subscribe to daily email delivery
Visit us on facebook