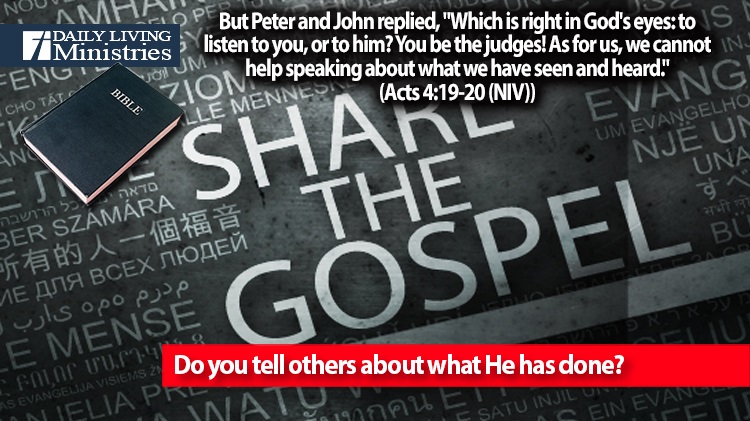 Be Still . . .
Devotionals for Daily Living ©
But Peter and John replied, "Which is right in God's eyes: to listen to you, or to him? You be the judges! As for us, we cannot help speaking about what we have seen and heard."
(Acts 4:19-20 (NIV))
Who is it that you desire to listen to?
Who is that you you desire to have influence your life and your eternity?
We live in a sinful, fallen world and it is so easy to listen to the things of this world especially when the things of this world can be so appealing and tantalizing.
But, there is a catch!
for all have sinned and fall short of the glory of God,
(Romans 3:23 (NIV))
We are all condemned.
for the wages of sin is death, but the gift of God is eternal life in Christ Jesus our Lord.
(Romans 6:23 (NIV))
We can continue to listen to the world and stay condemned, or we can choose to listen to God and accept the grace freely given at the cross of Calvary. We can choose to then share the Gospel with all that we may encounter. We can choose to live our lives in repentance and willing obedience to the Creator of all things. If you have accepted Jesus as your personal Lord and Savior, you have made a commitment to turn your back on the things of this world. You have made a commitment to stop listening to the worldly voices that continually tell you to rebel against God. You have made a commitment to listen for that still, small voice.
If you profess a faith in Jesus and continue to blatantly and intentionally sin, then you must take a serious look at yourself.
Many will say to me on that day, 'Lord, Lord, did we not prophesy in your name and in your name drive out demons and in your name perform many miracles?' Then I will tell them plainly, 'I never knew you. Away from me, you evildoers!'
(Matthew 7:22-23 (NIV))
I don't know about you, but this passage seems to lend itself to those who listen to the world instead of God, even when they think they know God.
Do you truly know God?
Do you tell others about what He has done?
Copyright 1998 – 2023 Dennis J. Smock
Daily Living Ministries, Inc.
https://www.dailylivingministries.org
Support Daily Living Ministries
Subscribe to daily email delivery
Visit us on facebook