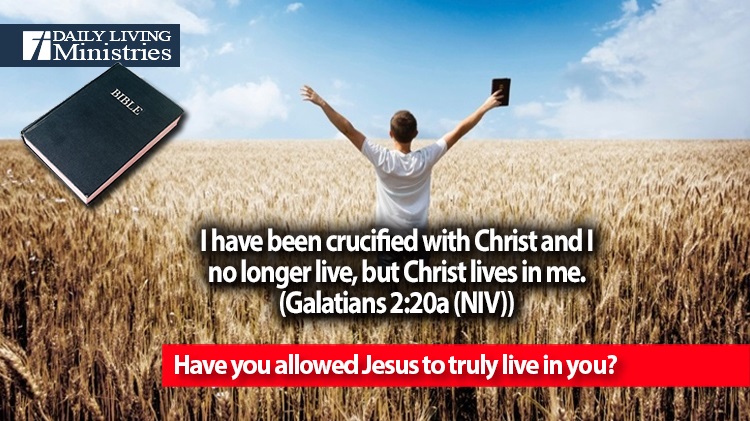 Be Still . . .
Devotionals for Daily Living ©
I have been crucified with Christ and I no longer live, but Christ lives in me.
(Galatians 2:20a (NIV))
I can safely say that I don't know anyone who professes a faith in Jesus as their personal Lord and Savior who does not firmly believe this passage. It is very assuring to think that the Son of God is resident within our lives. Too many people stop at this part of the passage and ignore the remaining aspects that we are to then live accordingly. We are to live out our lives with a confidence, with an assurance that we have placed our faith correctly.
I have been crucified with Christ and I no longer live, but Christ lives in me. The life I now live in the body, I live by faith in the Son of God, who loved me and gave himself for me.
(Galatians 2:20 (NIV))
We are to give up our previous lives. We are to surrender our sinful nature and exchange it for His righteousness as we walk out each moment of each day of our new lives. We are a new creation and our lives must reflect that! If Christ lives in you, you must allow Him to go to the fullness of His remaking of you in His image. You must wholeheartedly live out the concept of He must increase and I must decrease. Fully submitting to this allows the old, sinful you to be replaced with the righteousness of Jesus.
Therefore, if anyone is in Christ, the new creation has come: The old has gone, the new is here!
(2 Corinthians 5:17 (NIV))
Have you experienced the removal of old habits from your life? Have you experienced a renewing of our heart? Have you experienced a desire to grow in your faith in Jesus? Is Jesus fully at home within you?
Have you allowed Jesus to truly live in you?
Copyright 1998 – 2022 Dennis J. Smock
Daily Living Ministries, Inc.
http://www.dailylivingministries.org
Support Daily Living Ministries
Subscribe to daily email delivery
Visit us on facebook