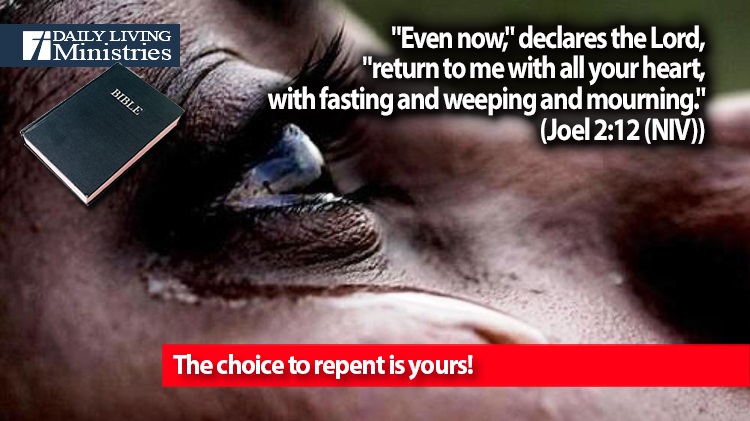 Be Still . . .
Devotionals for Daily Living ©
"Even now," declares the Lord,
     "return to me with all your heart,
     with fasting and weeping and mourning."
(Joel 2:12 (NIV))
Even now!
There is no better time than the present, for we are not promised tomorrow.
We live our lives as if we have all of the time in the world, but we don't. We live our lives as if we can do whatever we want and then, at the last minute, we can ask God for forgiveness. Most people never have that chance. We live our lives as if we will know when our time on this earth will end, yet we are caught off guard when it does.
With all that I see transpiring in the world, our own lives are not the only thing that is time sensitive. This world is facing things that seem to parallel end time prophecies, yet not many people are acknowledging this. We see satanic worship on TV, and at the same time, we have thousands of people worshipping Jesus. Is this part of the wheat and the tares happening right in front of us?
We are told that no man can know the hour or the day, but we can recognize the season. We are also told that many will be deceived. We are told that the enemy comes to kill, steal and destroy. We are told that the enemy is the father of lies. We are told that his lies caused Adam and Eve to fall from grace. We are told much, but how many of us truly pay attention to what we have been told? Are we caught in a delusion?
Time is short!
Jesus may return for His church this very moment. Where would you be? Your life may end this very moment. Where would you be?
for all have sinned and fall short of the glory of God,
(Romans 3:23 (NIV))
For the wages of sin is death, but the gift of God is eternal life in Christ Jesus our Lord.
(Romans 6:23 (NIV))
We have a choice!
Therefore God exalted him to the highest place
     and gave him the name that is above every name,
that at the name of Jesus every knee should bow,
     in heaven and on earth and under the earth,
and every tongue acknowledge that Jesus Christ is Lord,
     to the glory of God the Father.
(Philippians 2:9-11 (NIV))
We can return "even now" and experience grace and mercy, or we can bow when it is too late to escape the consequences of our sin.
The choice to repent is yours!
Copyright 1998 – 2023 Dennis J. Smock
Daily Living Ministries, Inc.
https://www.dailylivingministries.org
Support Daily Living Ministries
Subscribe to daily email delivery
Visit us on facebook