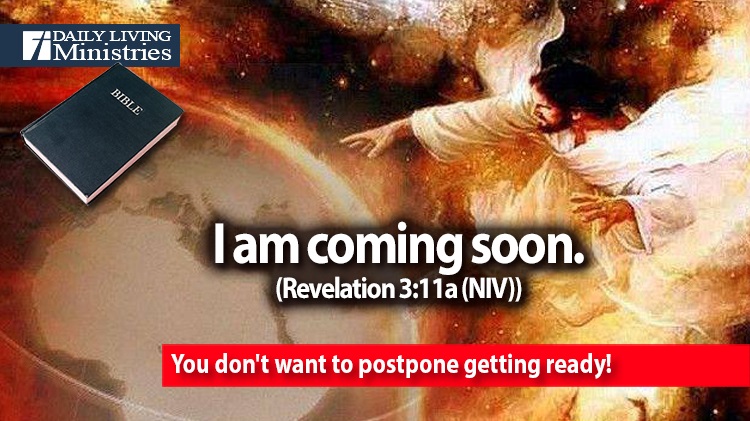 Be Still . . .
Devotionals for Daily Living ©
I am coming soon.
(Revelation 3:11a (NIV))
What is your definition of soon?
Merriam-Webster defines it as without undo time lapse or in a prompt manner. In other words, quickly or speedily. You could even say in an urgent manner.
Nothing in this life is a sure thing. We never know what tomorrow will bring. What if tomorrow finds you on the wrong side of eternity without Jesus?
There is no better time than now to make sure that this doesn't happen.
For God so loved the world that he gave his one and only Son, that whoever believes in him shall not perish but have eternal life. For God did not send his Son into the world to condemn the world, but to save the world through him. Whoever believes in him is not condemned, but whoever does not believe stands condemned already because they have not believed in the name of God's one and only Son.
(John 3:16-18 (NIV))
It is so simple to ask to receive this wonderful, eternal gift! It is as easy as ABC.
A is for admit that you are a sinner in need of a savior.
B is for believe in your heart that Jesus Christ died for your sins, was buried, and that God raised Him from the dead.
C is for call upon the name of the Lord Jesus.
Do you believe?
Are you ready for His return?
You don't want to postpone getting ready!
Copyright 1998 – 2021 Dennis J. Smock
Daily Living Ministries, Inc.
http://www.dailylivingministries.org
Support Daily Living Ministries
Subscribe to daily email delivery
Visit us on facebook