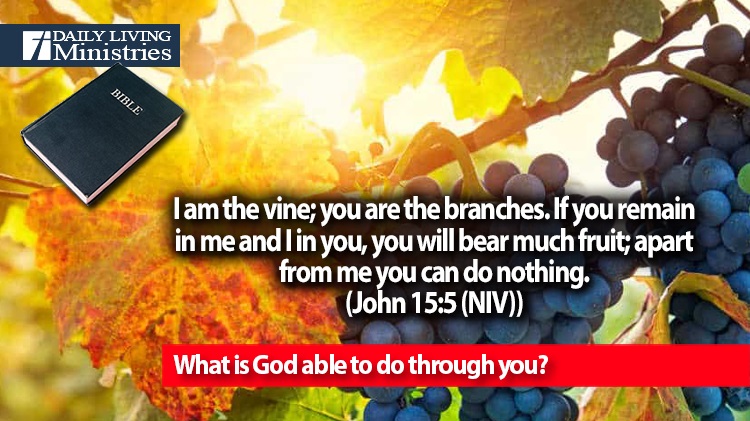 Be Still . . .
Devotionals for Daily Living ©
I am the vine; you are the branches. If you remain in me and I in you, you will bear much fruit; apart from me you can do nothing.
(John 15:5 (NIV))
We think that we are the ones who are able to do good works. We think that we are the ones who are convincing people to follow Jesus. We think that we are the ones who are making a difference in this world.
Based on this passage, do you honestly think that any of these grandiose thoughts that we may have about ourselves are true?
Personally, what I do is not from me, of me, or about me. I like anonymity. What is sent out is a labor of love, but it is not to show what I can do or what I know. In fact, my part in this is simple. I sit down at my computer and pray for guidance and direction. Sometimes, I will be prompted to write and reflect on a particular passage, but the goal is to always turn myself over to the Holy Spirit and follow His leading. I do not have an agenda. My only desire is a willingness to remain in Jesus and He in me. Occasionally I will look at the stats and when I do, I am amazed at what God has been able to do through a self-conscious old man who would rather never have to speak in public. I often tell people that I have a face for radio and a voice for silent movies, and as such, God has used my willingness to do these devotionals to reach people all around the world.
I am not saying that I will never be called to speak in public. What I am saying is that is not my desire, but if God has other plans for me, who am I to argue with the Lord. To be honest with you, I never though that I would be called to do what I have been doing for the last twenty-five years.
One thing that I have learned is that God has a sense of humor. He likes to take a willing heart and place us in situations outside of our comfort zones. It is my prayer that each of us desires to remain in Him and He in us to the point that we respond like Isaiah responded.
Then I heard the voice of the Lord saying, "Whom shall I send? And who will go for us?"
And I said, "Here am I. Send me!"
(Isaiah 6:8 (NIV))
It simply takes a desire for the Lord and a willingness to be used by Him! With this simple truth, I have but one question to ask of you.
What is God able to do through you?
Copyright 1998 – 2022 Dennis J. Smock
Daily Living Ministries, Inc.
https://www.dailylivingministries.org
Support Daily Living Ministries
Subscribe to daily email delivery
Visit us on facebook