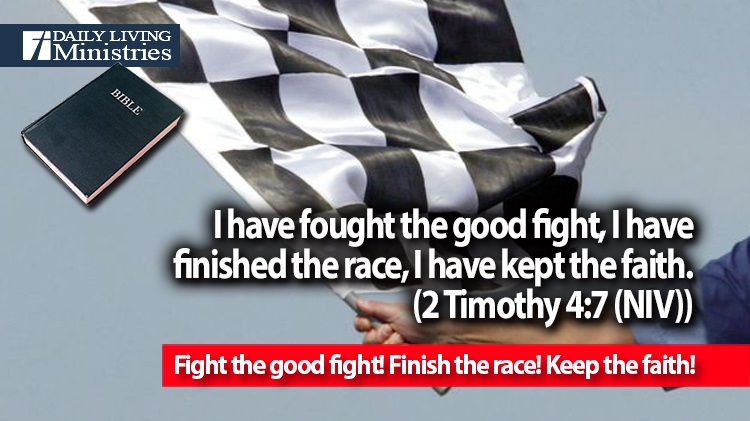 Be Still . . .
Devotionals for Daily Living ©
I have fought the good fight, I have finished the race, I have kept the faith.
(2 Timothy 4:7 (NIV))
Have you fought the good fight? Are you still fighting the good fight? Are you even aware of what fighting the good fight means?
Paul loved to use sports analogies. He often spoke of running the race, finishing the race, running in such a way as to get the prize, and fighting the good fight. But, just what did all of this mean according to the one who gave us the encouragement to do just that?
In the presence of God and of Christ Jesus, who will judge the living and the dead, and in view of his appearing and his kingdom, I give you this charge: Preach the word; be prepared in season and out of season; correct, rebuke and encourage—with great patience and careful instruction.
(2 Timothy 4:1-2 (NIV))
To put this in a nutshell, we are to never stop telling people about Jesus. We are to never stop shining His light to a dark and dying world. We are to live, eat, and breathe Jesus so that in all we do, others will see Jesus in us. We are to never let the enemy stop us. I realize that I indicated that I could rephrase Paul's words and put them in a nutshell, but everything that I attempt to do gives me more that I feel needs to be said. Maybe I should just take a step back and ask one simple question.
Do you love Jesus with all of your heart, with all of your mind, and with all of your spirit?
If your answer to this question is a resounding "Yes," then let the world see what you have. Let the world learn of the grace and mercy that is freely given to all who would simply accept. Let the world see that you are set apart from the world, that you choose to not follow the sinful ways of this world. It is said that the Word of God is sweeter than honey, and we know that Jesus is the Word made flesh. Share the sweetness of Jesus with the world. Let them see what He has done in your life. Let them know that what He did for you, He can and will do for all who will simply ask.
We are in a spiritual battle. If we choose to fight the good fight, that means that we do not simply sit on the sidelines. Professing a faith in Jesus as your personal Lord and Savior is not a spectator sport. We are called to go and share the good news. We are called to share the love of Jesus with a world that hates Him and us. We are to take the fight, with His help and His presence, to the very ones whom the enemy has blinded with his lies. We are to share with them a lifeline to salvation!
Fighting the good fight is living your whole life for Christ!
Fight the good fight! Finish the race! Keep the faith!
Copyright 1998 – 2022 Dennis J. Smock
Daily Living Ministries, Inc.
https://www.dailylivingministries.org
Support Daily Living Ministries
Subscribe to daily email delivery
Visit us on facebook