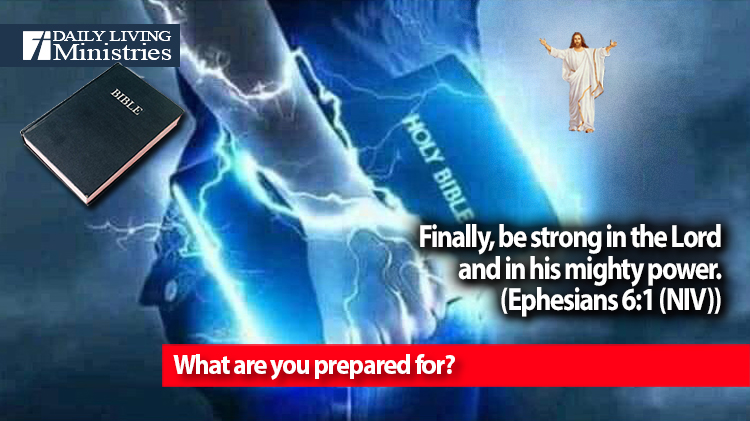 Be Still . . .
Devotionals for Daily Living ©
Finally, be strong in the Lord and in his mighty power.
(Ephesians 6:1 (NIV))
How good are you at facing the things of this world on your own strength?
I can almost hear your thoughts on this. Everyone likes to put on a false front and tell the world that they have everything covered, while inside they are falling apart.
Are you like most people and tell everyone that you have everything covered? Do you tell yourself that as well? Do you honestly believe the lies that you tell yourself? What happens at the first sign of trouble?
I realize that I am asking a lot of questions, but in all honesty, what good is reading God's Word if you don't feel uncomfortable. It is intended to make you reflect, to make you stop and take a good, long, hard look at your life in relation to the passage in question.
For the word of God is alive and active. Sharper than any double-edged sword, it penetrates even to dividing soul and spirit, joints and marrow; it judges the thoughts and attitudes of the heart.
(Hebrews 4:12 (NIV))
With that in mind, are you tired of trying to face things on your own strength? You don't need to do this. You don't need to rely on what you can do. You don't need to lie to the world and to yourself. You don't need to sacrifice your joy for a false facade. You don't need to listen to the lies of the enemy. Turn your eyes toward Jesus!
The thief comes only to steal and kill and destroy; I have come that they may have life, and have it to the full.
(John 10:10 (NIV))
Just how do you have life to the full? How do you rely on the strength of the Lord? How do you rely on His mighty power?
I am sure that you have thought of these questions yourself, but there is something else that came to my mind. The following words are often seen on bumper stickers, on social media, and many other places, but they hold true.
No Jesus. No peace.
Know Jesus! Know peace!
To be strong in the Lord means that you truly know Him. It means that you cling to His every word and to His every promise. It means that you know Jesus so well that you know without a doubt that all of His promises are Yes and Amen! You may recognize that Ephesians 6:1 is the beginning of the passages where we are told to put on the full armor of God. We are to surround ourselves with His Word. We are to understand that His Word is power. We are to understand that His Word is our protection against the enemy. We are to understand that His Word will defeat the enemy. We are to know His Word and His truth so well that we are prepared for anything that the enemy may try to send our way!
What are you prepared for?
Copyright 1998 – 2022 Dennis J. Smock
Daily Living Ministries, Inc.
https://www.dailylivingministries.org
Support Daily Living Ministries
Subscribe to daily email delivery
Visit us on facebook