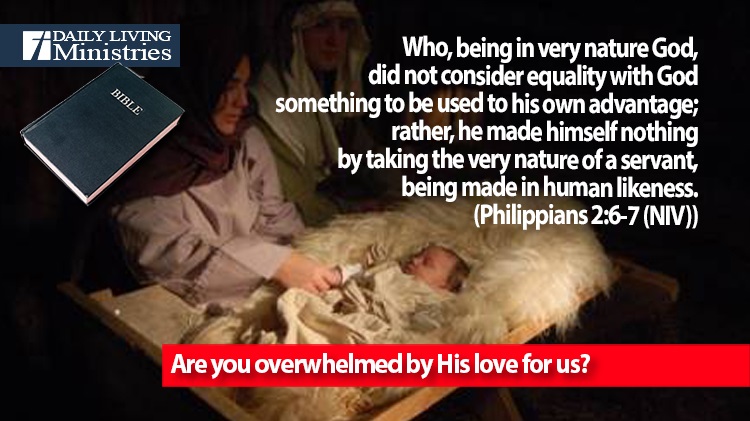 Be Still . . .
Devotionals for Daily Living ©
Who, being in very nature God,
     did not consider equality with God something to be used to his own advantage;
rather, he made himself nothing
     by taking the very nature of a servant,
     being made in human likeness.
(Philippians 2:6-7 (NIV))
Is it in your nature to submit to someone? Is it in your nature to willingly be a servant to others?
Human nature is a strange thing. We are fraught with anxiety, fear, distrust, pride, and so many other characteristics that don't allow us to willingly submit, to willingly be a servant. Each of us are focused on three people: me, myself and I. It is true that some of us are better at hiding it than others, but even the so-called best of us are guilty of trying to elevate ourselves over anyone and everyone that we can. Sadly, we inherited these characteristics from the father of lies because of the fall from grace in the Garden of Eden. It is that same fall from grace that separated us from God. It is that fall from grace that made us like satan in that we long to be in authority of others.
That was not God's plan!
He created us to be in intimate fellowship with Himself and with others. Ever since the Garden of Eden, God has unfolded a plan to restore us to that relationship, that intimate fellowship. He did something that we can't fathom because of our ego and pride. He sent His Son, Jesus, to be one of us. The God of creation came into His creation not as God, but as a man. He came into this world as a servant. He came to show us how to live. He came to show us how to relate to each other. He came to show us how to relate to Himself, and He came to do what was required to bring restoration to a sinful humanity.
For the Son of Man came to seek and to save the lost.
(Luke 19:10 (NIV))
It takes a servant's heart to do what Jesus did. Could you give up your comfort, your security, and your position to go into a location that didn't know you and didn't recognize you? Could you give up your life to reach those to whom you went? Perhaps you would have simply sent someone else to do it for you? Think about who Jesus is and what He did.
Are you overwhelmed by His love for us?
Copyright 1998 – 2021 Dennis J. Smock
Daily Living Ministries, Inc.
http://www.dailylivingministries.org
Support Daily Living Ministries
Subscribe to daily email delivery
Visit us on facebook