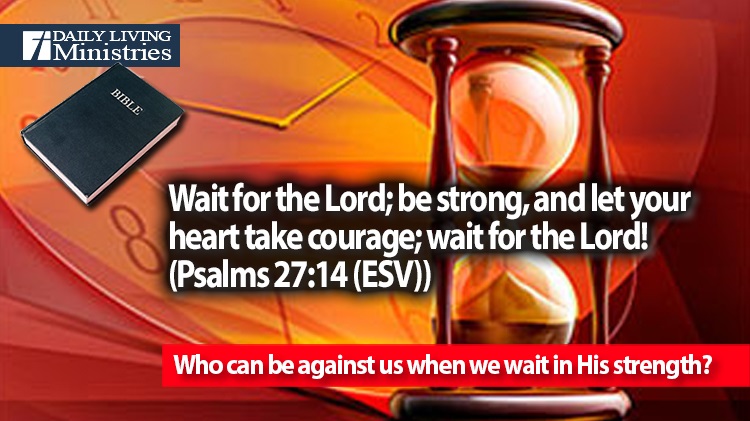 Be Still . . .
Devotionals for Daily Living ©
Wait for the Lord; be strong, and let your heart take courage; wait for the Lord!
(Psalms 27:14 (ESV))
When you think of waiting, what type of attitude do you usually associate with this process?
Are you anxious? Perhaps you are fearful. Perhaps you are even experiencing an attitude of complete loss where you are simply waiting for the inevitable to happen.
Have you ever waited from a position of strength where you knew the outcome will be one of victory? You knew that all you needed to do was wait for the time to pass to bring this victory to fruition.
If you have professed a faith in Jesus as your personal Lord and Savior, there is absolutely nothing in this world that should make you anxious, fearful, of have a feeling of loss. We have been told that all we must do is to be still for we are not relying on our strength. We are fully relying on His strength!
Be still before the Lord
     and wait patiently for him;
do not fret when people succeed in their ways,
     when they carry out their wicked schemes.
(Psalm 37:7 (NIV))
The Lord will fight for you; you need only to be still.
(Exodus 14:14 (NIV))
It is completely possible to wait in His strength! It is completely possible to place you faith in the Lord and completely rely on Him in all situations. Sadly, our sinful human nature takes over and we find ourselves doubting. We take our eyes off of Jesus and we start looking at the world, but, we must never forget in whom we have placed our faith. I believe that Paul said it well when he wrote these words to the believers in Rome.
What, then, shall we say in response to these things? If God is for us, who can be against us?
(Romans 8:31 (NIV))
Who can be against us when we wait in His strength?
Copyright 1998 – 2022 Dennis J. Smock
Daily Living Ministries, Inc.
https://www.dailylivingministries.org
Support Daily Living Ministries
Subscribe to daily email delivery
Visit us on facebook