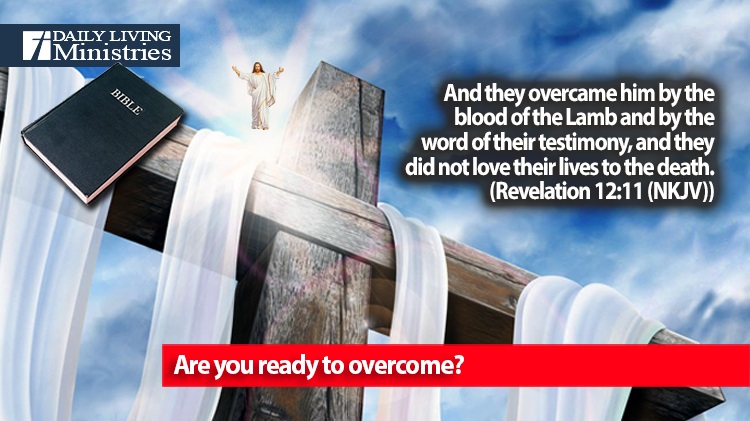 Be Still . . .
Devotionals for Daily Living ©
And they overcame him by the blood of the Lamb and by the word of their testimony, and they did not love their lives to the death.
(Revelation 12:11 (NKJV))
I don't often quote this translation, but I had something pointed out to me recently that is clear in this translation but not in others. Forgive me if this translation is your favorite! I read many different translations and each translation has certain subtleties that make it unique and worth diving into in great detail. I honestly believe that some translations have used what is often drilled in to us in middle school English classes, and that is to not use the same word over and over again. We are encouraged, probably in hopes of expanding our vocabulary, to find synonyms to replace repetitive words. I firmly believe that it is the repetition that drives home the point that God desires to make!
All throughout the book of Revelation, the churches are told that they will be rewarded if they overcome.
"He who has an ear, let him hear what the Spirit says to the churches. To him who overcomes I will give to eat from the tree of life, which is in the midst of the Paradise of God."
(Revelation 2:7 (NKJV))
Other passages go on to tell about not being hurt by the second death; about being given hidden manna and a new name; about being given power over the nations; about not having your name blotted out of the Book of Life, and many more.
Exactly what does it mean to overcome?
When we accept Jesus as our personal Lord and Savior, we are accepting the grace and mercy that allows us to overcome the power of sin and death. But how do we truly and completely overcome the enemy, for it is possible to profess Jesus with our mouth, yet not fully surrender with our heart?
We must live for the Lord!
We must love the Lord just as Jesus told us.
"Teacher, which is the greatest commandment in the Law?"
Jesus replied: "'Love the Lord your God with all your heart and with all your soul and with all your mind.'
(Matthew 22:36-37 (NIV))
This means that we do something that goes against human nature. It means that we willingly elevate the Lord to a position higher than we like to elevate ourselves. This is extremely difficult because we like to think that we are the masters of our own destiny. We are prideful. We love our lives, yet we can't control a single thing in our lives. We simply cannot overcome anything on our own. When we truly come to the realization that we are nothing without Him, then we can make the decision that will truly allow us to overcome.
He must increase, but I must decrease.
(John 3:30 (NKJV))
Are you ready to overcome?
Copyright 1998 – 2023 Dennis J. Smock
Daily Living Ministries, Inc.
https://www.dailylivingministries.org
Support Daily Living Ministries
Subscribe to daily email delivery
Visit us on facebook