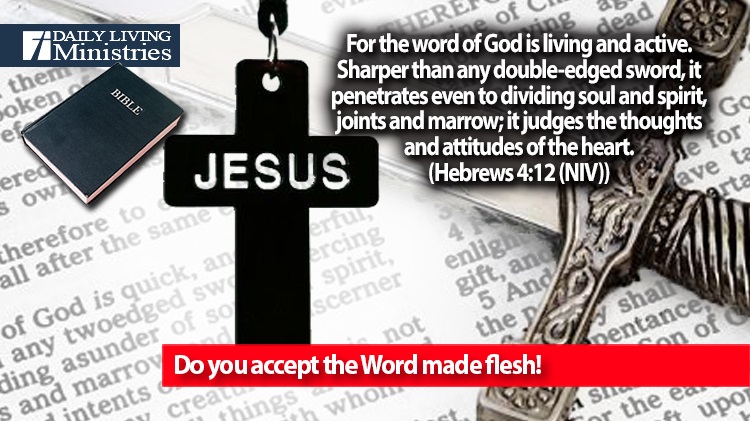 Be Still . . .
Devotionals for Daily Living ©
For the word of God is living and active. Sharper than any double-edged sword, it penetrates even to dividing soul and spirit, joints and marrow; it judges the thoughts and attitudes of the heart.
(Hebrews 4:12 (NIV))
Perhaps this is why so many people do not spend time in God's Word!
It makes then reflect on what they are doing!
We are creatures of habit. Human nature is far too predictable. When people reflect, they do not like what they see, so instead of changing to fit what God has called them to, they ignore God and continue in their sin. They put away what makes them see the things within themselves that they don't like. In their minds, it is so much easier to live with the sin that they know instead of taking a chance to be free from their sin.
The Word of God is not something to be taken lightly, or, for granted. It is alive and has meaning for every person who has ever lived, whether they choose to accept that meaning or not.
Those who accept the Word of God and Jesus Christ, the Word made flesh, will have their lives examined and changed by the Holy Spirit. They will find themselves worthy to stand before the Father. Those who do not accept the Word of God will be told that Jesus never knew them and will be cast out from the presence of God.
When was the last time that you actually picked up a Bible and diligently read more than a single passage? It is true that their is power in all Scripture, but it was never intended for you to just read a single passage on a random basis. Just as a single one of your cells is considered alive, it takes the complete collection to fully come to life. The same is true of God's Word. To fully comprehend the life that is contained within the pages of the Bible, you have to read and study the whole thing. Only then will you truly begin to know the heart of the Father.
Do you spend time in God's Word?
Do you truly accept the Word of God?
Do you accept the Word made flesh!
Copyright 1998 – 2022 Dennis J. Smock
Daily Living Ministries, Inc.
https://www.dailylivingministries.org
Support Daily Living Ministries
Subscribe to daily email delivery
Visit us on facebook