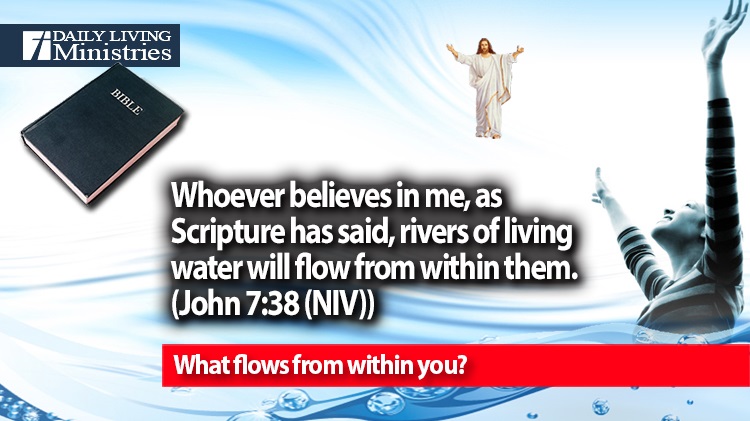 Be Still . . .
Devotionals for Daily Living ©
Whoever believes in me, as Scripture has said, rivers of living water will flow from within them.
(John 7:38 (NIV))
There is an old saying that a leopard can't change its spots. They are an integral part of what makes a leopard a leopard. Have you ever heard that same saying used in reference to a person? It is maliciously said of someone in a derogatory fashion to imply that that person is a bad apple and will never change. In other words, once a thief, always a thief. Once a murderer, always a murderer. Once a liar, always a liar. Once an adulterer, always an adulterer. People are implying that what will always flow from a person's life will continue to be what has flowed from their life in the past. They claim that there is no chance of ever changing!
Has your life changed since you accepted Jesus as your personal Lord and Savior, or are you the same person putting forth the same sinful life as you were before accepting Jesus?
I realize that this question sounds so far off base, especially when you understand the truth that accepting Jesus as your personal Lord and Savior has started a process in your life that changes you from the inside out! Sadly, those who say such things as a leopard can't change its spots have completely missed the concept of redemption and grace. It is even more saddening to hear this kind of language directed at others when it comes from someone who professes a faith in Jesus. No wonder the world calls the Body of Christ hypocrites. They see a small sampling of those who claim to know Jesus and they see these type of actions. All that they see flowing out of these individuals is anything but life-giving.
We are called to share Jesus with the world!
I am sure that many of you remember the old fad from several years ago – WWJD – What Would Jesus Do? I'm not trying to be cliché, but there is a lot of truth in those four little letters and those four words. What flows from our lives is supposed to be Jesus, but do our actions reflect that?
For God so loved the world that he gave his one and only Son, that whoever believes in him shall not perish but have eternal life. For God did not send his Son into the world to condemn the world, but to save the world through him. Whoever believes in him is not condemned, but whoever does not believe stands condemned already because they have not believed in the name of God's one and only Son.
(John 3:16-18 (NIV))
If anyone believes in Jesus, they are not condemned. They are in a process of becoming mature and Christlike. Is everyone at the same point? No! But, you can rest assured that the Holy Spirit is at work and He is preparing the way for the living waters to flow if we will only allow them to flow. It is up to us. We must decide if we truly believe in Jesus and then let the rivers flow!
What flows from within you?
Copyright 1998 – 2022 Dennis J. Smock
Daily Living Ministries, Inc.
https://www.dailylivingministries.org
Support Daily Living Ministries
Subscribe to daily email delivery
Visit us on facebook