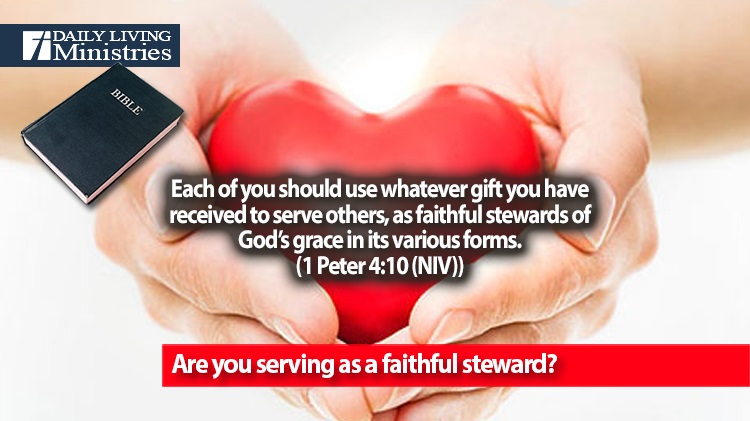 Be Still . . .
Devotionals for Daily Living ©
Each of you should use whatever gift you have received to serve others, as faithful stewards of God's grace in its various forms.
(1 Peter 4:10 (NIV))
Acts of faithful service always have an impact!
With the current state of the world and the uncertainty that everyone is feeling, when was the last time that you used your talent, your gift, to serve others?
Think about that question from an eternal perspective. What if your willingness to serve someone is the final act, the final witness to the reality of God's love that brings them to a saving knowledge of Jesus? What if your willingness to serve shows them the hope that is theirs if they only accept it? Could you face eternity knowing that you failed to do something that would have changed eternity for someone else?
Every person who professes a faith in Jesus is called to share the Gospel.
Therefore go and make disciples of all nations, baptizing them in the name of the Father and of the Son and of the Holy Spirit, and teaching them to obey everything I have commanded you. And surely I am with you always, to the very end of the age.
(Matthew 28:19-20 (NIV))
Not only are we called to share, but if we fail to warn someone of danger, we are held accountable. There is no greater danger than that of an impending eternity separated from the Father. If we fail to use our gifts to warn someone of the danger and show them the path to salvation, we are accountable!
But if the watchman sees the sword coming and does not blow the trumpet to warn the people and the sword comes and takes someone's life, that person's life will be taken because of their sin, but I will hold the watchman accountable for their blood.
(Ezekiel 33:6 (NIV))
We must get over the attitude that I have my salvation and everyone else is on their own. Nothing could be further from the truth! God places people in our lives every single day who need to hear the good news of salvation that is only available through Jesus. We have a calling. We have a responsibility to faithfully use the gifts that we have been given to serve others, to bring them into the Kingdom.
Are you serving as a faithful steward?
Copyright 1998 – 2021 Dennis J. Smock
Daily Living Ministries, Inc.
http://www.dailylivingministries.org
Support Daily Living Ministries
Subscribe to daily email delivery
Visit us on facebook