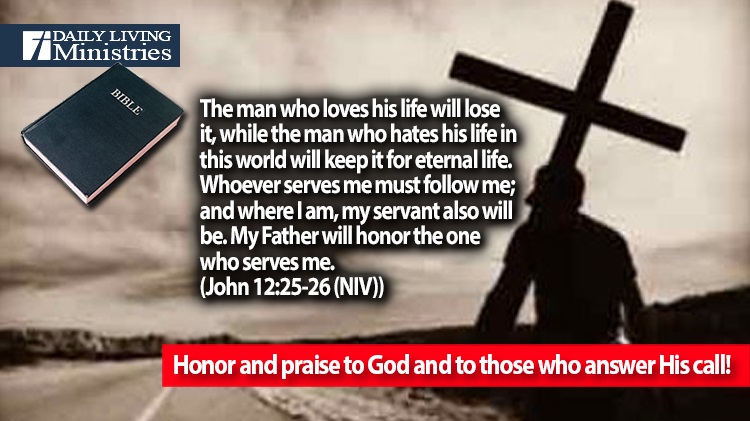 Be Still . . .
Devotionals for Daily Living ©
The man who loves his life will lose it, while the man who hates his life in this world will keep it for eternal life. Whoever serves me must follow me; and where I am, my servant also will be. My Father will honor the one who serves me.
(John 12:25-26 (NIV))
I have sent this before, but I believe that it merits another visit.
Think back on the history of this country.
Have we ever had a time when a king or a dictator forced anyone to fight and die? Have we ever had a time when we turned tail and ran from the responsibilities that we have been given? We owe our country to our faith in God and to the brave men and women who were willing to sacrifice everything for the principles that our country is founded upon.
Greater love has no one than this, that he lay down his life for his friends.
(John 15:13 (NIV))
Think about that verse.
Our nation was founded by people who were seeking something. Some came seeking adventure. Some came seeking opportunity. But, many were seeking freedom to worship God as they saw fit. It was this freedom that became an integral part of our nation's mindset. We were founded by people who saw something that they didn't agree with and were willing to do something about it.
Some spoke out about the things that they saw. Others rallied people behind them. Many gave their lives to battle the very things that they saw as oppressive. We have never been a country to shy away from doing what is right. We have been driven by a desire to see God's love, grace and mercy prevail. It is true that some people may not have known Jesus as their Lord and Savior, yet they had an inner feeling about right and wrong. It was part of our culture and our society. They answered the call many times even before they knew there was a call.
They gave it all. They were willing to lay down their lives so that others could know the freedoms that God had granted us. They followed the example of Jesus when He went to the cross. It was something that would end in their death, yet they faced it with dignity and pride. They did not run from their responsibility.
They faced the enemy with honor. They did not shy away from the task at hand because it would mean their death. They were living out the words of Jesus.
I tell you the truth, anyone who has faith in me will do what I have been doing. He will do even greater things than these, because I am going to the Father.
(John 14:12 (NIV))
They gave their lives in much the same way that Jesus gave His. They knew that without their sacrifice, countless lives would be lost.
Memorial Day has just passed. It is a day that we are supposed to remember the sacrifices. It is a day to say thank you. It is a day to ask ourselves if we are capable of stepping up and defending what we hold to be true. There may come a day when we will be called upon to proclaim our faith and suffer the consequences. It is my prayer that we may all love God more than we love our own lives.
Honor and praise to God and to those who answer His call!
Copyright 1998 – 2022 Dennis J. Smock
Daily Living Ministries, Inc.
http://www.dailylivingministries.org
Support Daily Living Ministries
Subscribe to daily email delivery
Visit us on facebook