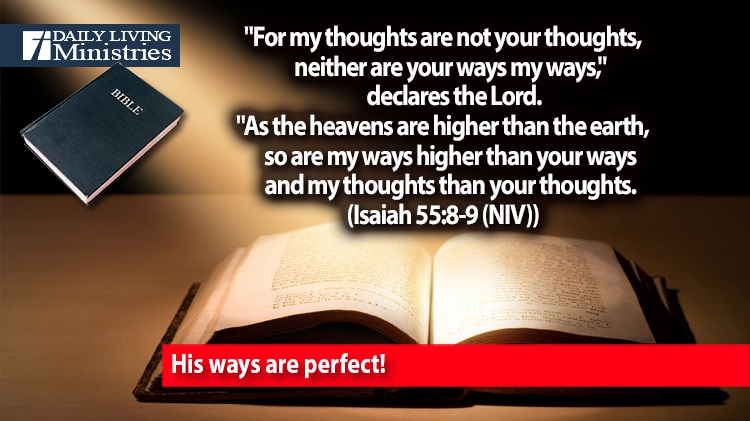 Be Still . . .
Devotionals for Daily Living ©
"For my thoughts are not your thoughts,
      neither are your ways my ways,"
         declares the Lord.
"As the heavens are higher than the earth,
      so are my ways higher than your ways
      and my thoughts than your thoughts.
(Isaiah 55:8-9 (NIV))
Have you ever found yourself asking, "What is God doing?"
If you are like a vast number of people, this has probably come to mind quite often in recent history. To be honest with you, if you aren't asking this, then it means that you aren't paying attention to the world and what is unfolding right before our eyes. If you stop to consider that there are two ways that this question can be asked, then it opens up a complete new perspective on this question and how that you view God's authority.
If you ask this question sarcastically, then it shows your contempt and disdain for how God is handling things. In essence, you are fed up with what is unfolding and are frustrated with God for not fixing it according to your desires. Be careful with this, for this is pride and has caused many to stumble and fall harshly.
What if you are asking this question with a curiosity and an eye to God's Word? Are you searching God's Word for insight and understanding?
Now the Berean Jews were of more noble character than those in Thessalonica, for they received the message with great eagerness and examined the Scriptures every day to see if what Paul said was true.
(Acts 17:11 (NIV))
Are you excited to think that you get to be alive during this time as God unfolds His plans? Do you ask this question in awe and wonder of God's eternal plan and where we might be in His timing?
The next time that you find yourself looking around and asking "What is God doing?", I pray that it is with an attitude of awe and wonder, after all His ways are higher than ours. We are only the creation. He is the Creator! His timing is perfect.
His ways are perfect!
Copyright 1998 – 2021 Dennis J. Smock
Daily Living Ministries, Inc.
http://www.dailylivingministries.org
Support Daily Living Ministries
Subscribe to daily email delivery
Visit us on facebook