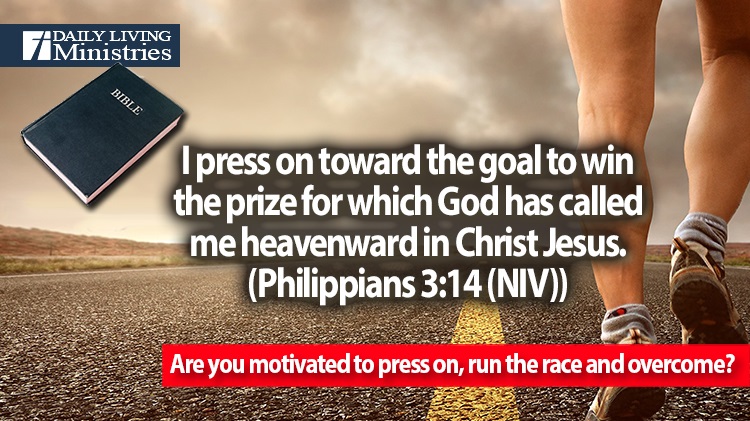 Be Still . . .
Devotionals for Daily Living ©
I press on toward the goal to win the prize for which God has called me heavenward in Christ Jesus.
(Philippians 3:14 (NIV))
Have you truly stopped to reflect on all of the action verbs that are used to describe the Christian walk? Words and phrases such as press on, run the race, and overcome are just a few that come to mind. In essence, professing a faith in Jesus and following Jesus are not passive endeavors. It takes commitment. It takes a determination. It takes a desire and a motivation to see Jesus face to face. It takes a desire to be faithful to Jesus as not only your Savior, but also as your Lord and master.
His master replied, 'Well done, good and faithful servant! You have been faithful with a few things; I will put you in charge of many things. Come and share your master's happiness!'
(Matthew 25:23 (NIV))
Do you desire to hear Jesus say this to you?
Have you ever truly stopped to think about what motivates you in your walk with Jesus? What makes you put your faith into action? What actions do you take? Do you press on even in the face of adversity and troubles? Do you run the race because quitting the race is not something that you have even considered? Do you overcome because you realize what Simon Peter realized?
Simon Peter answered him, "Lord, to whom shall we go? You have the words of eternal life.
(John 6:68 (NIV))
My motivation for pressing on comes from my realization that I have no one else to turn to.
Jesus answered, "I am the way and the truth and the life. No one comes to the Father except through me.
(John 14:6 (NIV))
Have you come to that realization? Have you allowed this realization to motivate you to put your faith into action and fully rely on the Lord?
"I have told you these things, so that in me you may have peace. In this world you will have trouble. But take heart! I have overcome the world."
(John 16:33 (NIV))
Are you motivated to press on, run the race and overcome?
Copyright 1998 – 2022 Dennis J. Smock
Daily Living Ministries, Inc.
http://www.dailylivingministries.org
Support Daily Living Ministries
Subscribe to daily email delivery
Visit us on facebook