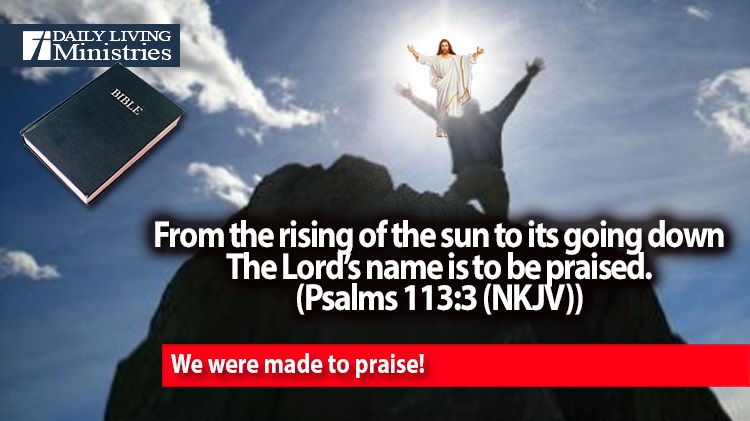 Be Still . . .
Devotionals for Daily Living ©
From the rising of the sun to its going down
The Lord's name is to be praised.
(Psalms 113:3 (NKJV))
Everyone knows this passage, but have you looked at it in other translations. In this translation it appears to be talking about a period of time from sunrise to sunset, but is it? We know that when this was written, people lived their lives based on the rising and setting of the sun. It was understood that they were to praise the Lord every waking moment of every day. Each translation handles this just a little differently with the possible subtleties of the English language. They all convey the same thing, but some seem to take it to the next level.
From the rising of the sun to its setting,
    the name of the Lord is to be praised!
(Psalms 113:3 (ESV))
With the translator's choice of words, the ESV begins to take on more possibilities, but the NIV fully expounds on the possibilities that are conveyed just through the choice of a few different words that still mean the same thing, but now, through the choice of words, we get a richer and fuller understanding.
From the rising of the sun to the place where it sets,
    the name of the Lord is to be praised.
(Psalms 113:3 (NIV))
Not only is this passage speaking of a time period, but, it is also speaking of an unlimited location. We know that the sun rises in the east and sets in the west, but since the earth is in constant motion we know that there is always a sunrise and a sunset at any moment of the day at various places around the world. If we expand the concept of praising the Lord during your waking hours to the understanding that there will always be people who are awake, we understand that there should always be constant praise being lifted up to the Lord!
We know that we were created to be in fellowship with the Lord and to praise Him. The subtleties in translations of this passage prove the infinite wisdom of the Lord. His understanding is far greater than ours. The earth is indeed His and all that is in it should praise His glorious name!
We were made to praise!
Copyright 1998 – 2021 Dennis J. Smock
Daily Living Ministries, Inc.
http://www.dailylivingministries.org
Support Daily Living Ministries
Subscribe to daily email delivery
Visit us on facebook