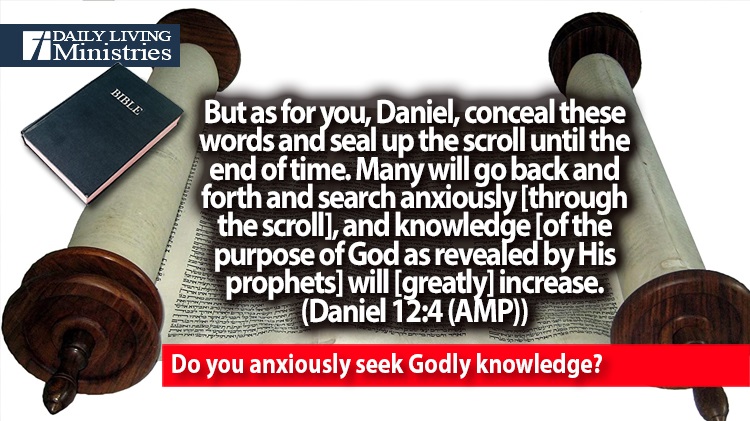 Be Still . . .
Devotionals for Daily Living ©
But as for you, Daniel, conceal these words and seal up the scroll until the end of time. Many will go back and forth and search anxiously [through the scroll], and knowledge [of the purpose of God as revealed by His prophets] will [greatly] increase.
(Daniel 12:4 (AMP))
Have you ever heard this passage translated in this way?
Perhaps you are more familiar with it from this translation.
But you, Daniel, roll up and seal the words of the scroll until the time of the end. Many will go here and there to increase knowledge.
(Daniel 12:4 (NIV))
Most of us think of this passage with respect to the last sentence and take that to mean that people will be able to go everywhere easily and that human knowledge such as technology will increase. To be honest with you, this is a perfect picture of our world today. We have seen more advancements in the last one hundred years with respect to travel and human knowledge than we have over the last several thousand years.
I have a question for you to consider.
What was in the original Hebrew scrolls that made one translation allude to this as traveling here and there to increase knowledge while another translator chose to indicate that people will be going back and forth anxiously searching the scriptures for knowledge of the end of time?
I realize that everyone has their personal favorite translation that they like to use, but unless you are capable of fluently reading the original Hebrew and Greek manuscripts, we are all at the mercy of the people who translated God's Word. We must learn to go beyond our favorite translation and cross reference other translations. We are to search the scriptures in such a way that we eagerly seek His insight into His Word, and if that means comparing translations to help us understand the intent of the original Hebrew and Greek manuscripts, then we must do so with prayerful consideration. Even if we only read one translation, we must pray for God to open our eyes, our hearts and our minds so that we truly understand His Word. We must be like the Bereans.
Now the Berean Jews were of more noble character than those in Thessalonica, for they received the message with great eagerness and examined the Scriptures every day to see if what Paul said was true.
(Acts 17:10-12 (NIV))
We must examine the scriptures!
We must be eager in our examinations!
Do you search anxiously through God's Word? Do you cross-reference from one passage to another and from one translation to another? Let's take that back to the context originally spoken of in this passage. Let's look at the increase in the desire to understand the end of time. Have you seen an increase in the eagerness to understand this knowledge?
Daniel, I now command you to keep the message of this book secret until the end of time, even though many people will go everywhere, searching for the knowledge to be found in it.
(Daniel 12:4 (CEV))
God's Word is much more than instructions on how to live our lives. It is an insight into the very heart and mind of the Lord. It is an insight into God's very plan as it unfolds.
Do you anxiously seek Godly knowledge?
Copyright 1998 – 2021 Dennis J. Smock
Daily Living Ministries, Inc.
http://www.dailylivingministries.org
Support Daily Living Ministries
Subscribe to daily email delivery
Visit us on facebook