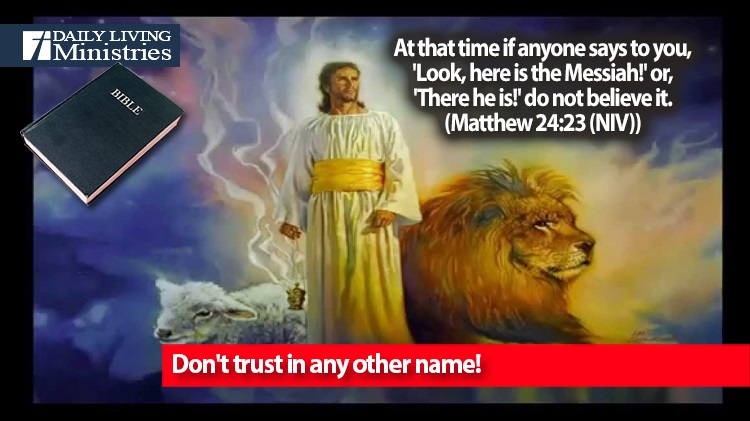 Be Still . . .
Devotionals for Daily Living ©
At that time if anyone says to you, 'Look, here is the Messiah!' or, 'There he is!' do not believe it.
(Matthew 24:23 (NIV))
I saw something just a few days ago that made me stop in my tracks. Since then, I have seen many more things that confirm what I saw.
You may want to sit down for this!
Many of the rabbis in Israel, including whom I have been told is one of the top rabbis, are saying that their Messiah is here. I have seen videos coming out of Israel of a man whom they are proclaiming is their Messiah. He was praying at the Western Wall and a very large crowd of men were gathered around him. Everyone was trying to touch him. He even sat down and the rabbis were kissing his hand as they passed him in procession! I've done some research and some of my findings indicate that this man may be half Jewish and half Muslim. They are even calling him the son of David. And, he is thirty years old!
I honestly don't know what to think of these events!
As the Body of Christ, we must remember what Jesus told us in Matthew. We must remember the writings that tell us that the next time that Jesus returns He will come as a conquering hero. He will split the Mount of Olives as He descends!
On that day his feet will stand on the Mount of Olives, east of Jerusalem, and the Mount of Olives will be split in two from east to west, forming a great valley, with half of the mountain moving north and half moving south.
(Zechariah 14:4 (NIV))
We must stay focused on Jesus and not be fooled by people proclaiming that the Messiah is here. He has already been here and was rejected. He was already here and was crucified, died and was buried. He arose on the third day. When He ascended into heaven, angels foretold of His return.
"Men of Galilee," they said, "why do you stand here looking into the sky? This same Jesus, who has been taken from you into heaven, will come back in the same way you have seen him go into heaven."
(Acts 1:11 (NIV))
Every day I see more and more that has me apprehensive and fearful for those who have not accepted Jesus as their personal Lord and Savior, for it appears that time is running out. At the same time, I am filled with joy at the prospect of the very soon return of Jesus to gather His church. As His church, we must stay focused on Jesus for He is the true Messiah. We must know what He has told us of the events of the times. We must know God's Word so well that we will not be tricked into believing that their is another Messiah.
Jesus is
"'the stone you builders rejected,
     which has become the cornerstone.'
Salvation is found in no one else, for there is no other name under heaven given to mankind by which we must be saved."
(Acts 4:11-12 (NIV))
Don't trust in any other name!
Copyright 1998 – 2021 Dennis J. Smock
Daily Living Ministries, Inc.
http://www.dailylivingministries.org
Support Daily Living Ministries
Subscribe to daily email delivery
Visit us on facebook