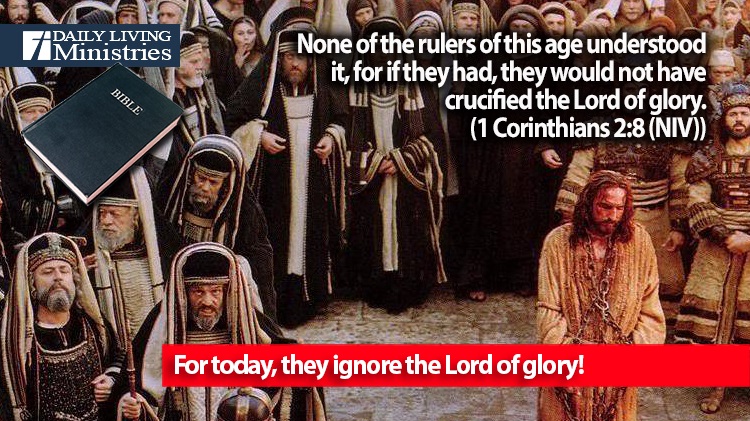 Be Still . . .
Devotionals for Daily Living ©
None of the rulers of this age understood it, for if they had, they would not have crucified the Lord of glory.
(1 Corinthians 2:8 (NIV))
After two thousand years, we still have people who don't understand!
We still have rulers and governments who don't understand!
I hate to say this, but we even have religious leaders who don't understand!
When Jesus walked the earth, He was not what the people expected the Messiah to be. The truth is that Jesus was not different from what the prophecies foretold. The sad fact is that the prophecies were misunderstood, and because of this, they carried out the ultimate form of betrayal.
They crucified Him!
Israel had walked away from God on so many occasions, and when they did return, they worshipped out of ritual instead of out of truth. It is sad that human ritual can pervert and corrupt even what is being done with good intentions. They spent so much time focused on the rituals that they lost the true meaning behind these rituals. Their temple sacrifices were to atone for sin when following the letter of the law still left everyone a sinner. The meaning of the sacrifices had become lost on the people. True repentance was not in their hearts.
Stop bringing meaningless offerings!
     Your incense is detestable to me.
New Moons, Sabbaths and convocations—
     I cannot bear your worthless assemblies.
(Isaiah 1:13 (NIV))
They failed to realize that God had laid out a plan to draw people to Him. They failed to realize what God desired of them.
For I desire mercy, not sacrifice,
     and acknowledgment of God rather than burnt offerings.
(Hosea 6:6 (NIV))
Are we any better today?
I would like to think that we are, but we still have our misconceptions of what God desires. We hear people proclaiming separation of church and state. We even hear government officials falsely proclaiming this. In almost every so-called modern nation, government is worldly with no reference to anything that is righteous in the eyes of God. I honestly believe that not only do our rulers and government officials not understand, they couldn't care less about the things of the Lord. They have removed Him completely from the public stage and relegated the Savior of the world to nothing more than a joke in their eyes.
If you profess a faith in Jesus as your personal Lord and Savior, it is time to pray for our rules, our leaders and our governments. We need to pray that they will repent of their ignorance, . . .
For today, they ignore the Lord of glory!
Copyright 1998 – 2023 Dennis J. Smock
Daily Living Ministries, Inc.
https://www.dailylivingministries.org
Support Daily Living Ministries
Subscribe to daily email delivery
Visit us on facebook