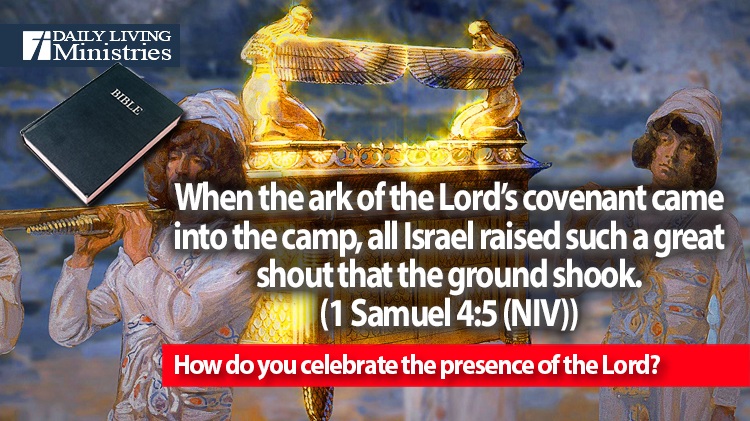 Be Still . . .
Devotionals for Daily Living ©
When the ark of the Lord's covenant came into the camp, all Israel raised such a great shout that the ground shook.
(1 Samuel 4:5 (NIV))
How do you celebrate the presence of the Lord?
Think about that!
God would lead His people by going ahead of them in a pillar of cloud by day and a pillar of fire by night. When He stopped, the ark was brought in and set within the tabernacle. To the nation of Israel, the ark of the covenant was the presence of God. It was the mercy seat where God came to dwell with His people. The whole nation of Israel rejoiced greatly when this happened. They praised God with such a great shout that the ground shook.
How does that compare to what we do in our churches?
The Israelites had the events of the Exodus to be thankful for. God saved them out of physical bondage in Egypt. They had been slaves for four hundred years and God rescued them. He made a choice to show His power to the world through the actions He took bringing them out of Egypt.
They had a reason to rejoice, and their rejoicing shook the ground!
I hate to say this, but in most of our churches today, we barely even make a noise, and we have so much more to be thankful for than the Israelites did!
God saved them from physical bondage, but they were still in bondage to sin and death. We have been given something that they weren't given. We have grace. We have mercy. We have salvation freely given to all who will simply profess a faith in Jesus as their personal Lord and Savior. The Israelites escaped physical bondage. We can escape eternal bondage to sin and death, and yet we act as if we are dead. We don't shout out our thanks. We don't lift up His name in praise. Most believers are more enthusiastic about their favorite sports team than they are about lifting up His name in praise.
The Lord moved mightily in and through the nation of Israel when they had not forgotten the things that He had done for them. Have we forgotten what He has done for us? We can now stand in His presence through the atoning blood of Jesus and we act like we are watching a show on tv. We simply sit back and watch as a spectator.
Faith is not a spectator sport!
How do you celebrate the presence of the Lord?
Copyright 1998 – 2022 Dennis J. Smock
Daily Living Ministries, Inc.
https://www.dailylivingministries.org
Support Daily Living Ministries
Subscribe to daily email delivery
Visit us on facebook