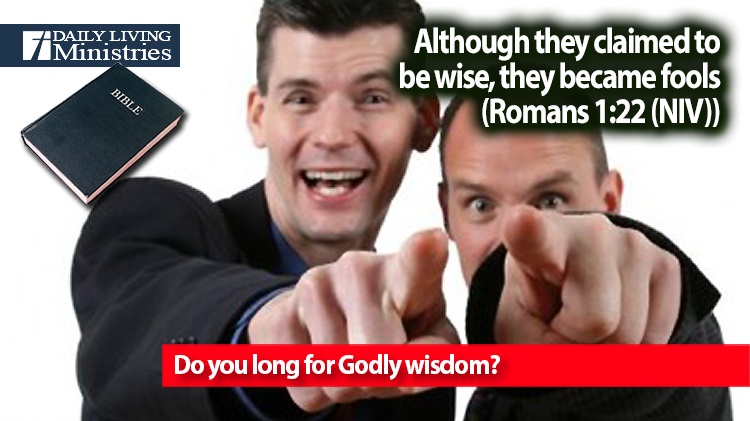 Be Still . . .
Devotionals for Daily Living ©
Although they claimed to be wise, they became fools
(Romans 1:22 (NIV))
Do you remember what we are told is God's definition of a fool?
The fool says in his heart,
     "There is no God."
They are corrupt, their deeds are vile;
     there is no one who does good.
(Psalm 14:1 (NIV))
In essence, it is rejecting God. This can mean that someone never believed. It can also mean that this can come about from those who claim to know Him and then reject or turn away from Him.
For although they knew God, they neither glorified him as God nor gave thanks to him, but their thinking became futile and their foolish hearts were darkened. Although they claimed to be wise, they became fools and exchanged the glory of the immortal God for images made to look like a mortal human being and birds and animals and reptiles.
(Romans 1:21-23 (NIV))
We seem to be living in a time when fools are increasing in number. People are looking at the world as if they are in control. People feel as if they have all of the answers and all of the knowledge.
I want to let you in on a little secret. I have all of the answers.
To the world, that last statement may sound arrogant. It may sound just like all of the power hungry people all throughout history, but if you profess a faith in Jesus as your personal Lord and Savior, then you also have all of the answers!
I can proclaim this with complete certainty due to the following facts.
– We are all sinners
– We all are in need of a Savior
Salvation is found in no one else, for there is no other name under heaven given to mankind by which we must be saved.
(Acts 4:12 (NIV))
I have come to realize that it takes faith to be a fool, to say that there is no God. People who make this profession see themselves as wise, but in all honesty, they are suffering from something that many people confuse for wisdom. They have been educated, they have been given false knowledge that makes them believe that there is no God. Personally, I don't want the type of faith that it takes to be a fool. I long for Godly wisdom!
Do you long for Godly wisdom?
Copyright 1998 – 2023 Dennis J. Smock
Daily Living Ministries, Inc.
https://www.dailylivingministries.org
Support Daily Living Ministries
Subscribe to daily email delivery
Visit us on facebook