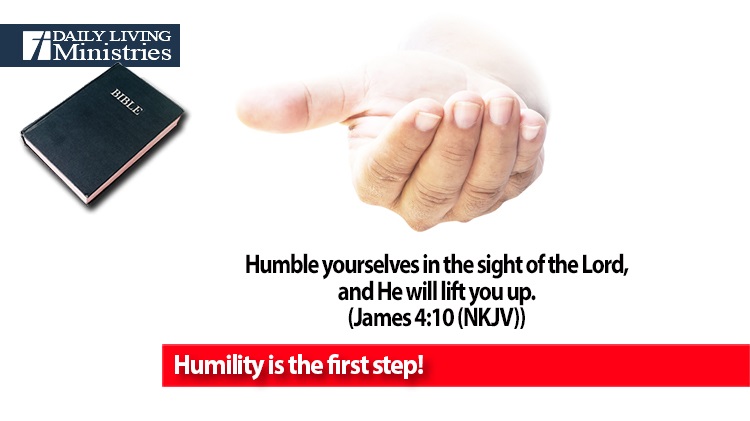 Be Still . . .
Devotionals for Daily Living ©
Humble yourselves in the sight of the Lord, and He will lift you up.
(James 4:10 (NKJV))
God knows sinful human nature far too well.
I believe that the hardest thing for anyone to be is humble. Ever since the fall from grace in the Garden of Eden, it is simply just not in our nature. In fact, the fall was because we were not able to be humble when we were told that we could be just like God. Satan dangled the carrot, or should I say the knowledge of good and evil, and we took the bait. If Adam and Eve had simply realized that they were the creation and that they were not, nor could they be God, then things would have happened so much differently than we have been told in God's Word. Instead of being humble, Adam and Eve let pride take control and that got them cast away from God's presence.
If that is the case, doesn't it make perfect sense that if we are able to be humble, then that could be reversed?
It takes humility to admit that you are a sinner in need of a savior! It takes humility to admit that you are not capable of being God, and it takes humility to admit that Jesus is the only begotten Son of God. When you are capable of humbling yourself before God, He reverses what sin caused and He lifts you up into a relationship with Him, just like the relationship He had with Adam and Eve before the fall.
Humble yourselves before the Lord, and he will lift you up.
(James 4:10 (NIV))
The English Standard Version translates that last part as "he will exalt you." According to Merriam-Webster, when you are exalted, you are raised in rank, power, or character. You are elevated by praise or in esteem. Humanity was created to walk in fellowship with God. If you reflect on the Garden of Eden, it was not an angel who walked with them. It was God! Even the angels did not get this designation, this familial calling. If you humble yourself in the sight of the Lord, you will be exalted, you will be restored to God's original plan. You will no longer be cast away because of your sin. In much the same way that the father embraced the prodigal son, our Father in heaven longs to embrace each of us when we humble return to Him!
Humility is the first step!
Copyright 1998 – 2023 Dennis J. Smock
Daily Living Ministries, Inc.
https://www.dailylivingministries.org
Support Daily Living Ministries
Subscribe to daily email delivery
Visit us on facebook