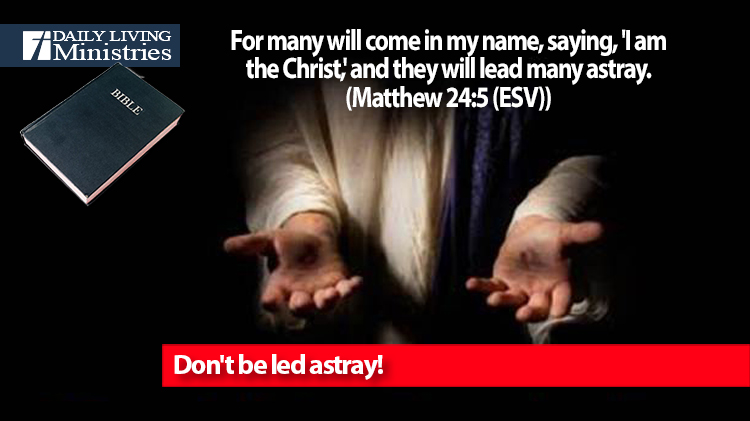 Be Still . . .
Devotionals for Daily Living ©
For many will come in my name, saying, 'I am the Christ,' and they will lead many astray.
(Matthew 24:5 (ESV))
Have you ever stopped to count the number of people in your lifetime who have claimed to be a messiah, if not the messiah?
From the likes of Jim Jones to David Koresh, we have seen many people who claim to be from God. Some people have even made statements about political leaders being the messiah. One even went so far where his followers called him their lord and savior on a nationally televised event. And now, recent events in Israel have rabbis saying that their messiah is alive and that they are now meeting with him.
If you profess a faith in Jesus as your personal Lord and Savior, then you know that all of these individuals are not the real thing. There is only one Messiah, and His name is Jesus! He was born of a virgin. He taught. He performed so many miracles that they couldn't all be recorded. He willingly went to the cross to die for our sins. On the third day, He was resurrected and walked among us once again. He ascended into heaven and now sits at the right hand of God the Father, and to all who will believe in Him, He intercedes for us and gives us eternal life in the presence of the Father. He will come again!
Are you ready to recognize the one true Messiah?
Will you be able to stand firm when others are being lead astray?
For those of you who are married, if you are put in a room full of people who claim to be your spouse, how do you recognize the true person that you are married to?
I realize that the answer to that last question is rather obvious, but I felt that it needed to be asked. The same way that we recognize our spouse is also the same way that we will recognize Jesus. Familiarity! This familiarity only comes from spending time together. It only comes from a familiarity that comes from an intimacy, a closeness, that is only found in that one relationship. It is found in no one else!
We know that Jesus will tell those who have not built that relationship to get away because He never knew them. I venture to say that this intimacy can go in the other direction. Put these false messiahs to the test, and don't be afraid to tell them to get away because you don't know them. This will require that you get to know Jesus and He gets to know you. Spend time in His Word. Spend time in prayer. Gather with other believers who are also seeking that intimacy with the Lord.
Can you recognize Jesus?
Don't be led astray!
Copyright 1998 – 2022 Dennis J. Smock
Daily Living Ministries, Inc.
https://www.dailylivingministries.org
Support Daily Living Ministries
Subscribe to daily email delivery
Visit us on facebook