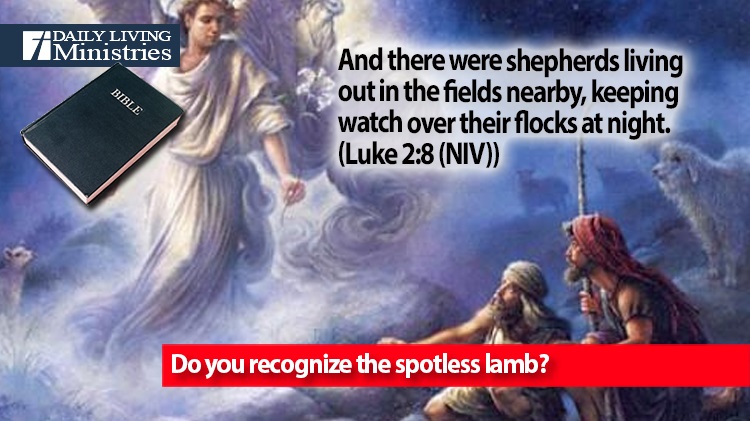 Be Still . . .
Devotionals for Daily Living ©
And there were shepherds living out in the fields nearby, keeping watch over their flocks at night.
(Luke 2:8 (NIV))
We all know the story. Angels appear to the shepherds, but is there more to this than angels appearing to whom we think of as the lowest rungs on the ladder of society?
I have read articles and I have seen video accounts that speculate that these shepherds had a special flock to attend to. There is historical evidence that indicates that the flocks for the temple sacrifices were the animals that these shepherds were watching over. If that is the case, then they were watching over the very animals that would be offered as atoning sacrifices for the sins of Israel. I have not had an opportunity to validate this next statement, but think of the implications if this is true. I recently read that when a spotless lamb was born, it was wrapped in cloth and placed in a manger to separate it out from the rest of the flock. It was set aside to be the sin offering for the people of Israel. If that is true, then these shepherds knew the meaning of what the angel told them. They knew that the child was the perfect, spotless lamb of God!
Today in the town of David a Savior has been born to you; he is the Messiah, the Lord. This will be a sign to you: You will find a baby wrapped in cloths and lying in a manger."
(Luke 2:11-12 (NIV))
Is it any wonder why the shepherds left their flocks? Is it any wonder why they instinctively knew what was transpiring?
We are separated by over two thousand years since these events took place, but it seems that we are also separated by much more than that. The things that we read have so much more behind them than just a set of circumstances, a set of events that unfold as we read the words. If we truly knew and understood the Jewish society, the Hebraic Laws, the traditions and the geography of the area, we would have so much more understanding. Our eyes would be opened and our faith would soar!
The shepherds knew!
They left their jobs where they looked after the sheep that would be used as a method to temporarily atone for sins to go see the perfect lamb of God who would take away the sins of the world.
Do you recognize the spotless lamb?
Copyright 1998 – 2021 Dennis J. Smock
Daily Living Ministries, Inc.
http://www.dailylivingministries.org
Support Daily Living Ministries
Subscribe to daily email delivery
Visit us on facebook