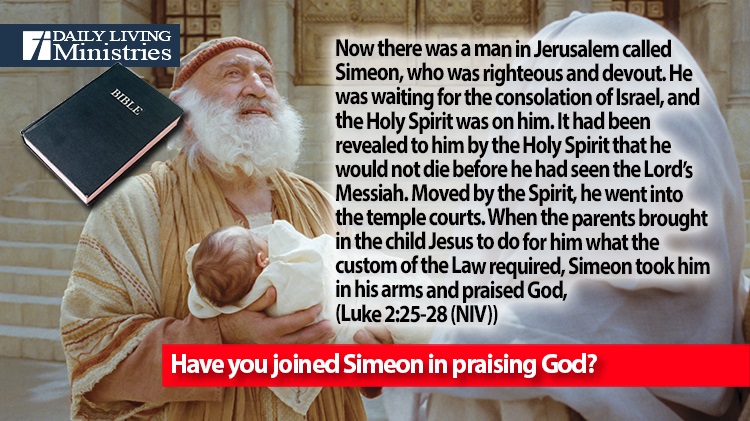 Be Still . . .
Devotionals for Daily Living ©
Now there was a man in Jerusalem called Simeon, who was righteous and devout. He was waiting for the consolation of Israel, and the Holy Spirit was on him. It had been revealed to him by the Holy Spirit that he would not die before he had seen the Lord's Messiah. Moved by the Spirit, he went into the temple courts. When the parents brought in the child Jesus to do for him what the custom of the Law required, Simeon took him in his arms and praised God,
(Luke 2:25-28 (NIV))
Simeon's faith was strong. He desired nothing more than to see the Lord's Messiah. When the time was right, he was obedient to the leading of the Holy Spirit and his sole desire was granted to him. He waited a lifetime to see the Messiah. He did not sway from his desires. He did not sway in his faith that he would see the Messiah. He stood firm on the promises of God.
Do you long to see Jesus?
Do you have the patience and the faith that Simeon possessed?
Think about that. Simeon was an old man. He had waited his whole life to see the Messiah, and he probably only spent just a few minutes in His presence. Would that be enough for you? To Simeon, that was enough. He knew that everything else that the Lord had promised would come to pass because of the fulfillment of the promised Messiah whom he had held in his arms. Because of the fulfillment of God's promise to Simeon in those few minutes, Simeon was faithfully and boldly able to proclaim the following.
"Sovereign Lord, as you have promised,
      you may now dismiss your servant in peace.
For my eyes have seen your salvation,
      which you have prepared in the sight of all nations:
a light for revelation to the Gentiles,
      and the glory of your people Israel."
(Luke 2:29-32 (NIV))
Have you joined Simeon in praising God?
Copyright 1998 – 2021 Dennis J. Smock
Daily Living Ministries, Inc.
http://www.dailylivingministries.org
Support Daily Living Ministries
Subscribe to daily email delivery
Visit us on facebook