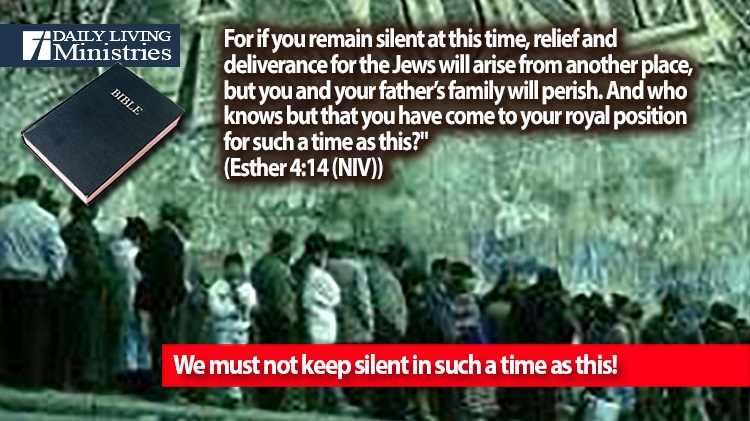 Be Still . . .
Devotionals for Daily Living ©
For if you remain silent at this time, relief and deliverance for the Jews will arise from another place, but you and your father's family will perish. And who knows but that you have come to your royal position for such a time as this?"
(Esther 4:14 (NIV))
I love Mordecai's answer to Esther. He simply reminded her that God had placed her exactly where she was. God had orchestrated it so that Esther was in her position in order to be used by God to save her people, or should I say His people.
We read this story and we fail to recognize that we are also alive for such a time as this!
Each of us who profess a faith in Jesus as our personal Lord and Savior have a calling. We are placed into situations and into the lives of others so that God may be glorified, so that we can share the Gospel and lead people to salvation. Just like Esther, we are not called to sit back and do nothing when there is a threat. We are called to pray. We are called to go beyond prayer and respond to what God shows us when we pray.
What if Esther had not responded?
Mordecai told her that God would find another way, but he also reminded her that she had been placed where she was for a reason.
Where have you been placed?
Each of us has a circle of influence that includes family, friends, coworkers and many, many more. What are you doing where you have been placed for such a time as this? Are you sharing the Gospel? Are you praying for those around you? Are you showing kindness and love to all whom you see?
I am constantly seeing that more and more people believe that God's plans are unfolding right before our very eyes. What are we doing to rescue those who are perishing and don't even know it?
He told them, "The harvest is plentiful, but the workers are few. Ask the Lord of the harvest, therefore, to send out workers into his harvest field.
(Luke 10:2 (NIV))
Are you willing to go? Are you willing to not keep silent?
As believers in Jesus, we have been given an assignment. We are to go and share the gospel with a world that desperately needs Jesus.
We must not keep silent in such a time as this!
Copyright 1998 – 2023 Dennis J. Smock
Daily Living Ministries, Inc.
https://www.dailylivingministries.org
Support Daily Living Ministries
Subscribe to daily email delivery
Visit us on facebook