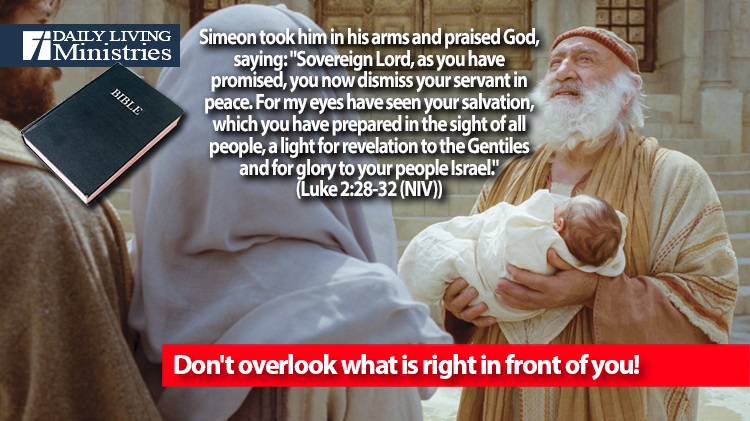 Be Still . . .
Devotionals for Daily Living ©
Simeon took him in his arms and praised God, saying: "Sovereign Lord, as you have promised, you now dismiss your servant in peace. For my eyes have seen your salvation, which you have prepared in the sight of all people, a light for revelation to the Gentiles and for glory to your people Israel."
(Luke 2:28-32 (NIV))
What do you do now that you have seen your salvation?
We just celebrated the birth of Jesus as our Lord and Savior. Unlike Simeon, we don't have to wait our entire lives to see God's promise fulfilled. We can see it every single day of our lives. We should see it in everything that we do. We have grace and mercy given to us in all circumstances of our lives. All that we have to do is repent and seek forgiveness for our sinful actions.
Have you ever thought that this is why we have things in our lives that we shouldn't have? Let me ask this in a slightly different approach. Have you ever had something so readily available to you that you took it for granted? Have you ever gone to the extreme and waited until it was too late to realize just what you had available to you?
It is human nature to miss what is right before us. We do it with missed relationships, missed job opportunities, missed witnessing opportunities, and so many more. I have seen people, and I have also been one to miss opportunities. We all do it. Why do we miss things right in front of us while we long for the very things that we miss? Do we think things have to be complicated and because of this, miss the simple things that will have the most meaning and impact?
Simeon knew what he and the whole world were missing. He had prayed for salvation all of his life. He knew what it was that he was expecting and he knew it when he saw it. Why don't we know God's grace and mercy when we see it? Why do so many people look right at Jesus and see something else than what He truly is?
Do you recognize your salvation?
Don't overlook what is right in front of you!
Copyright 1998 – 2022 Dennis J. Smock
Daily Living Ministries, Inc.
https://www.dailylivingministries.org
Support Daily Living Ministries
Subscribe to daily email delivery
Visit us on facebook