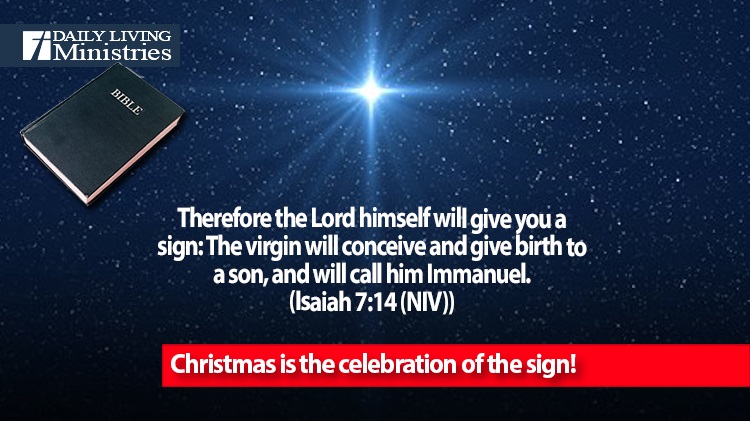 Be Still . . .
Devotionals for Daily Living ©
Therefore the Lord himself will give you a sign: The virgin will conceive and give birth to a son, and will call him Immanuel.
(Isaiah 7:14 (NIV))
Immanuel. God with us!
Contrary to what the retailers try to tell us, Christmas isn't about gifts. Contrary to what movies try to tell us, Christmas isn't about Santa, the Grinch, or any of those feel good stories. Christmas is about one thing and one thing only.
The birth of the promised Messiah! The birth of God's Son! The birth of Jesus!
For God so loved the world that he gave his one and only Son, that whoever believes in him shall not perish but have eternal life. For God did not send his Son into the world to condemn the world, but to save the world through him. Whoever believes in him is not condemned, but whoever does not believe stands condemned already because they have not believed in the name of God's one and only Son.
(John 3:16-18 (NIV))
This was and still is the greatest gift that has ever been given. Through Adam, we were lost in sin with no way out. Through Jesus, we can be redeemed. We can be made righteous in God's eyes.
All of heaven rejoiced at His birth. The angels proclaimed the Good News and glorified God for giving us His Son.
Today in the town of David a Savior has been born to you; he is the Messiah, the Lord. This will be a sign to you: You will find a baby wrapped in cloths and lying in a manger."
Suddenly a great company of the heavenly host appeared with the angel, praising God and saying,
"Glory to God in the highest heaven,
      and on earth peace to those on whom his favor rests."
(Luke 2:11-14 (NIV))
The angels announced the sign at His birth! They did not announce a sale. They did not announce that Santa is coming to town. They announced the birth of the Messiah, the fulfillment of the sign foretold in Isaiah.
Christmas is the celebration of the sign!
Copyright 1998 – 2021 Dennis J. Smock
Daily Living Ministries, Inc.
http://www.dailylivingministries.org
Support Daily Living Ministries
Subscribe to daily email delivery
Visit us on facebook