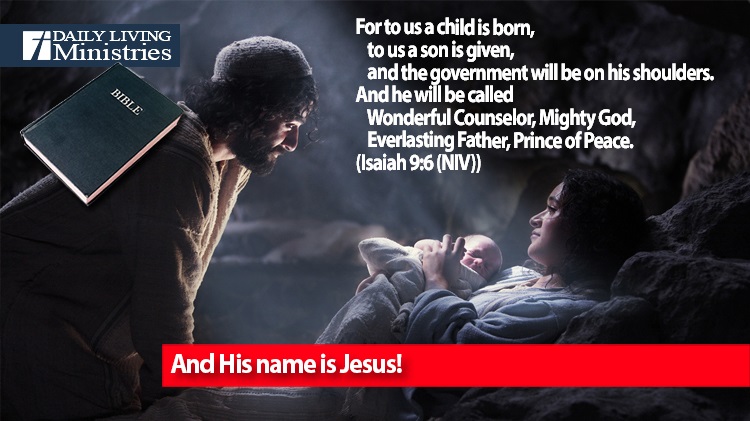 Be Still . . .
Devotionals for Daily Living ©
For to us a child is born,
     to us a son is given,
     and the government will be on his shoulders.
And he will be called
     Wonderful Counselor, Mighty God,
     Everlasting Father, Prince of Peace.
(Isaiah 9:6 (NIV))
What do you think of when you think of a child being born?
What do you think of when a son comes into a family?
There was a time in history, and it is still this way in many cultures, where a child, especially a son, meant a new beginning. It meant an inheritance. It meant that authority would soon be passed from the father to the son. It was a right of passage and a transition from the old to the new. The son was to be groomed to assume all authority at an appointed time.
We have been given a Son and His name is Jesus!
He came as a child, but He was not like any other child. He was God with us. He grew into a man and taught the truth about God's Law. Law comes from the authority of the government and His authority was final. He did away with the man-made rituals and interpretations that had corrupted God's Law. He taught that it was more important to fulfill the intent of the Law and not the letter of the Law.
He turned the religious authority upside down. He turned the world upside down.
Not so with you. Instead, whoever wants to become great among you must be your servant, and whoever wants to be first must be your slave— just as the Son of Man did not come to be served, but to serve, and to give his life as a ransom for many."
(Matthew 20:26-28 (NIV))
Does it go against your limited human understanding to comprehend, to accept the fact that God stepped out of heaven into the world that He created to save the world that He created? The God of all creation did not come into the world to be served, to be worshipped, but to serve by showing us how He intended for us to live! He stepped down from His eternal throne surrounded by angels into a manger in a stable! If that doesn't blow your mind, then nothing will. He loves us that much!
We all love when a child comes into a family. How much more should we love that the child has come to redeem us to Himself?
And His name is Jesus!
Copyright 1998 – 2021 Dennis J. Smock
Daily Living Ministries, Inc.
http://www.dailylivingministries.org
Support Daily Living Ministries
Subscribe to daily email delivery
Visit us on facebook