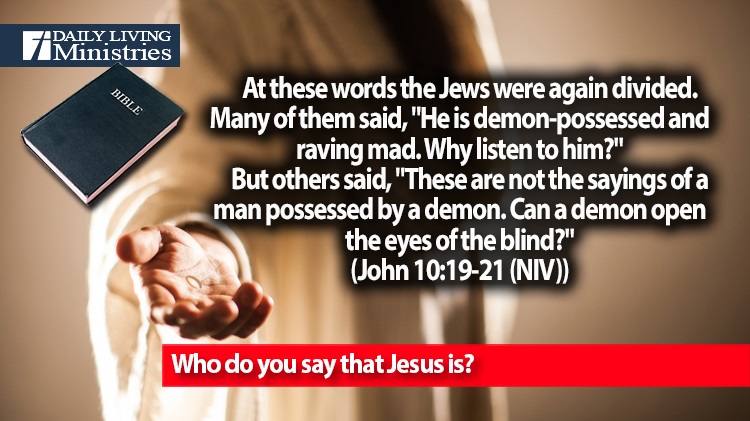 Be Still . . .
Devotionals for Daily Living ©
     At these words the Jews were again divided. Many of them said, "He is demon-possessed and raving mad. Why listen to him?"
     But others said, "These are not the sayings of a man possessed by a demon. Can a demon open the eyes of the blind?"
(John 10:19-21 (NIV))
It is interesting that all throughout history people have been so divided by Jesus. You either acknowledge Him as Lord and Savior or you vehemently deny Him and claim Him to be insane. It happened when He walked the earth. It happens to this day.
Therefore God exalted him to the highest place
     and gave him the name that is above every name,
that at the name of Jesus every knee should bow,
     in heaven and on earth and under the earth,
and every tongue confess that Jesus Christ is Lord,
     to the glory of God the Father.
(Philippians 2:9-11 (NIV))
One day soon, everyone will know exactly who He is. One day soon, those who claim His Lordship will rejoice. One day soon, those who claim Him to be insane will weep.
Why are the hearts of some people closed to the idea that Jesus is the Son of God? Do they reject God or do they reject the idea that God came to earth as one of us? If they reject God, then we must pray for them, for they are truly lost. If they reject the idea of God coming to earth, then they don't understand the very nature of God. Too many people see God as the ultimate in corporal punishment and not the ultimate in grace and mercy. Only grace and mercy would be willing to live, suffer and die as one of us.
How do you see God? That will play a big part in how you see Jesus. Is Jesus a man possessed by a demon or does He have all authority over everything, including demons?
Who do you say that Jesus is?
Copyright 1998 – 2021 Dennis J. Smock
Daily Living Ministries, Inc.
http://www.dailylivingministries.org
Support Daily Living Ministries
Subscribe to daily email delivery
Visit us on facebook