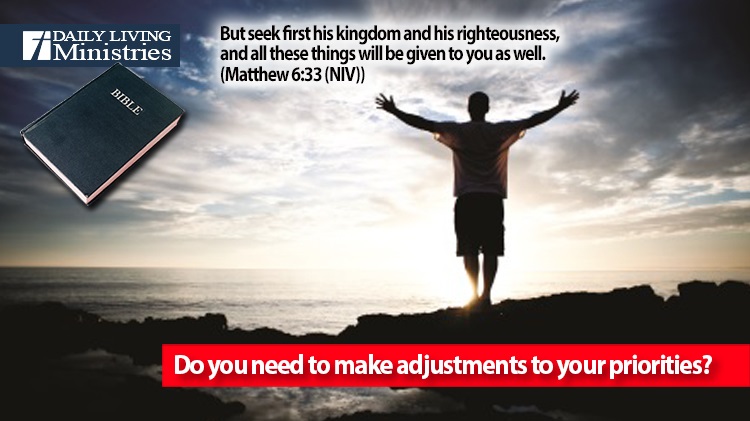 Be Still . . .
Devotionals for Daily Living ©
But seek first his kingdom and his righteousness, and all these things will be given to you as well.
(Matthew 6:33 (NIV))
What is it that you seek in life? Is it self-indulgent? Is it self-gratifying? Is it something that you would be proud to tell someone about?
Far too many people seek the wrong things in life. Sadly, some people seek the right things but for the wrong reasons. These people seek to do what is right, but not because it is right, but because it will bring them notoriety and recognition. They seek the accolades of men and not the recognition by God.
It is a matter of the heart and priorities.
What are your priorities?
I once heard a talk given on priorities. It was a short, but powerful retrospective discourse that made me look inside myself and come to the conclusion that I had been the very person who had been doing things for the wrong reasons. I came away with the realization that I needed to place God first in all that I do. It has not been easy to live up to this realization. I fail many times a day. Still, I know that when I fail, I can ask for grace and mercy and repent and try again.
Seeking God's kingdom first is not easy. Nothing worth having is easy. Think about your favorite past-time. Whether it is golf, art, or a musical instrument, it required work. Mastering it was not an easy task. That was only one part of your life. God's kingdom is all encompassing. It requires all of your life. If you seek God's kingdom first, He will give you grace and mercy so that everything else will fall in place.
What are your priorities?
Do you need to make adjustments to your priorities?
Copyright 1998 – 2022 Dennis J. Smock
Daily Living Ministries, Inc.
http://www.dailylivingministries.org
Support Daily Living Ministries
Subscribe to daily email delivery
Visit us on facebook