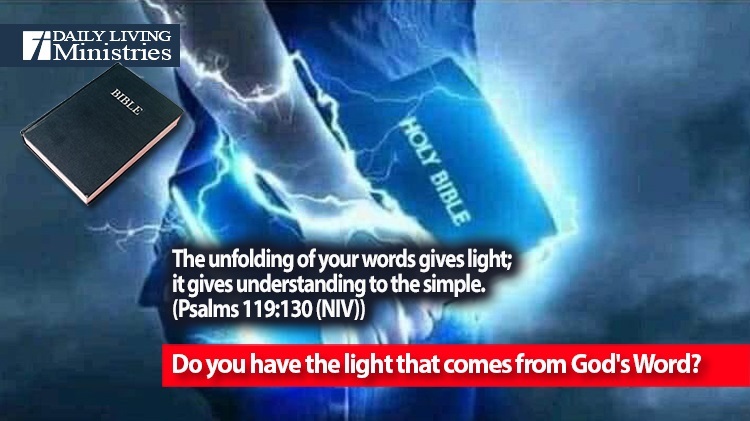 Be Still . . .
Devotionals for Daily Living ©
The unfolding of your words gives light; it gives understanding to the simple.
(Psalms 119:130 (NIV))
The Word of God is many things. It brings wisdom, understanding, truth, and light.
Let's take a look at this in a different context from what we normally think about with respect to God's Word.
In the beginning was the Word, and the Word was with God, and the Word was God. He was with God in the beginning.
Through him all things were made; without him nothing was made that has been made. In him was life, and that life was the light of men. The light shines in the darkness, but the darkness has not understood it.
There came a man who was sent from God; his name was John. He came as a witness to testify concerning that light, so that through him all men might believe. He himself was not the light; he came only as a witness to the light. The true light that gives light to every man was coming into the world.
He was in the world, and though the world was made through him, the world did not recognize him. He came to that which was his own, but his own did not receive him. Yet to all who received him, to those who believed in his name, he gave the right to become children of God– children born not of natural descent, nor of human decision or a husband's will, but born of God.
The Word became flesh and made his dwelling among us. We have seen his glory, the glory of the One and Only, who came from the Father, full of grace and truth.
(John 1:1-14 (NIV))
The psalmist hit the nail on the head when he wrote those words. The Word of God does give light. Jesus is the Word made flesh. Jesus is the light of the world. Jesus gives understanding.
Isn't it amazing how God will pre-tell what He is going to do even through people who do not realize that they are His prophets. I doubt that the psalmist actually knew that these words would literally come true in the form of Jesus, God with us.
I am so very thankful that they did come to pass!
Do you have the light that comes from God's Word?
Copyright 1998 – 2021 Dennis J. Smock
Daily Living Ministries, Inc.
http://www.dailylivingministries.org
Support Daily Living Ministries
Subscribe to daily email delivery
Visit us on facebook