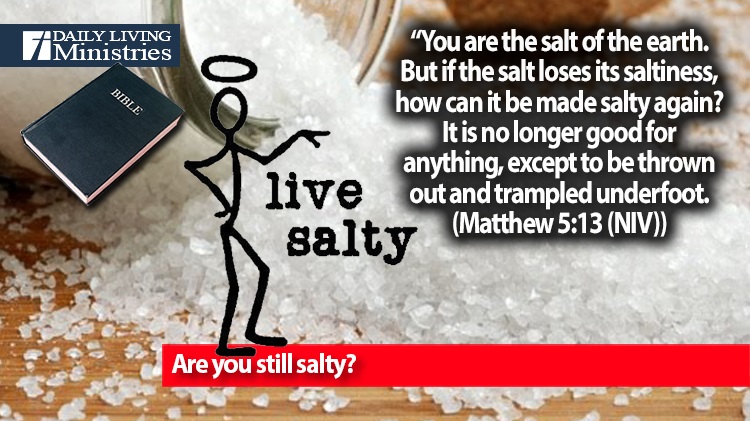 Be Still . . .
Devotionals for Daily Living ©
"You are the salt of the earth. But if the salt loses its saltiness, how can it be made salty again? It is no longer good for anything, except to be thrown out and trampled underfoot.
(Matthew 5:13 (NIV))
No one wants to be discarded, to be thrown out. It is human nature to walk away from something if we think we are going to be let go, terminated or thrown out. Chalk it up to pride, but we do this because we want to convince ourselves that it was our idea to leave or change directions. We are not willing to admit that we have failed and that we are no longer good at something. We try to turn the tables so that it looks like we still have the upper hand.
Do you know anyone who has ever done this?
Are you that person?
No one is perfect in this fallen world. There will be times that we all face circumstances just like the ones described above, but there is one endeavor that we do not want to be discarded from, let go from or thrown out from. We do not want to lose our zeal for the mission that we have been given.
Therefore go and make disciples of all nations, baptizing them in the name of the Father and of the Son and of the Holy Spirit, and teaching them to obey everything I have commanded you. And surely I am with you always, to the very end of the age."
(Matthew 28:19-20 (NIV))
We are to go and make disciples. We are to reflect the light of Jesus to a dark and sinful world. We are to bring the good news of Jesus Christ to the world. We are to share God's plan for having an abundant life both here on this earth as well as in eternity. We are to add the "salt" that adds flavor, that adds hope to a world that has lost all hope. If we, as members of the Body of Christ, lose that hope, then what good can we do? We can't share what we no longer have. We will have become just like the darkened world that has lost all hope.
The phrase, "Once saved, always saved," comes to mind in relation to people losing their saltiness. If we can lose our saltiness, our hope, our faith, and be thrown out and trampled underfoot, then what does that mean in relation to salvation? Suffice it to say that this is a topic for many more words and discussions than what can be easily conveyed here. It is something that everyone who professes a faith in Jesus as their personal Lord and Savior must stop and take a serious look at with respect to their life, their faith, their hope, and, of course, their saltiness.
Are you still salty?
Copyright 1998 – 2021 Dennis J. Smock
Daily Living Ministries, Inc.
http://www.dailylivingministries.org
Support Daily Living Ministries
Subscribe to daily email delivery
Visit us on facebook