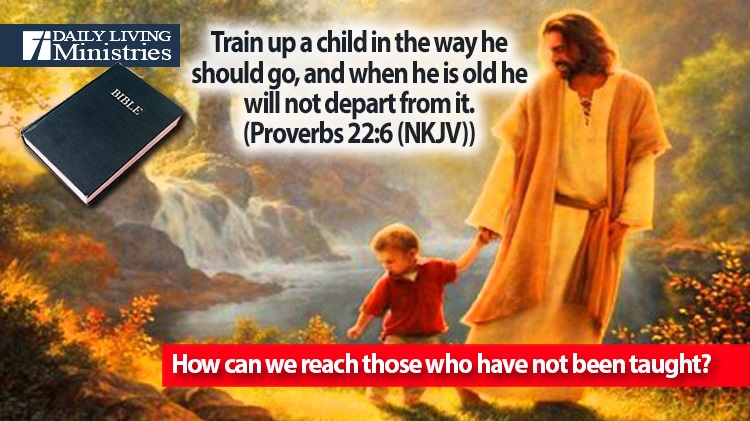 Be Still . . .
Devotionals for Daily Living ©
Train up a child in the way he should go, and when he is old he will not depart from it.
(Proverbs 22:6 (NKJV))
Everyone knows this passage. Everyone, that is, except many people in the current generations. Ever since the Supreme Court told us to remove the Ten Commandments and prayer from school, many people no longer are given the basic instructions in what is right and wrong.
Our society is faced with thousands of people who have no concept that there is an absolute truth and an absolute right. They see everything as a relative situation. I feel sorry for this generation. They will face untold hardship when they are faced with what life will eventually throw at them. They will not know that it is wrong to lie, cheat and steal. They will not know that God is the absolute truth in this world and that God calls what they are doing sin. They are self-centered and do not realize that the creation that they are maneuvering through is based on a desired relationship by the Creator.
We, as believers, must do all that we can to make these people aware that there are such things as absolute truths and absolute right and wrong and that God will not allow anyone who does wrong to associate with Him. We have become a society of "if it feels good, do it," but we have lost sight of the fact that Satan spreads lies through our senses. We have failed in training the children of the younger generations. We have allowed a very vocal minority to remove all reference to God and His Laws from our lives.
We must pray for this generation. We must pray for ourselves because we have let it happen. We must pray that God will show us how to restore what has been stolen from us.
How can we reach those who have not been taught?
Copyright 1998 – 2021 Dennis J. Smock
Daily Living Ministries, Inc.
http://www.dailylivingministries.org
Support Daily Living Ministries
Subscribe to daily email delivery
Visit us on facebook