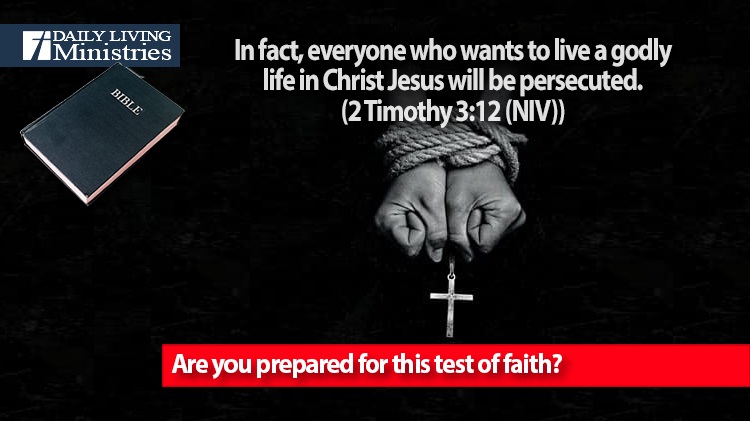 Be Still . . .
Devotionals for Daily Living ©
In fact, everyone who wants to live a godly life in Christ Jesus will be persecuted.
(2 Timothy 3:12 (NIV))
What would make someone deliberately choose to live a life that would get them persecuted?
From a worldly point of view, the fact that people will deliberately choose to live a life that will result in their persecution is extremely hard to comprehend. It is human nature to take the path of least resistance. Self preservation is a very strong human instinct. Even so, there have been millions of people since Jesus walked the earth who have chosen to live a godly life in Christ.
What makes this choice go against basic human nature?
Why do we make this choice?
I have told you these things, so that in me you may have peace. In this world you will have trouble. But take heart! I have overcome the world.
(John 16:33 (NIV))
We have a promise of something much better than anything this world has to offer. If it were offered by a mere man, it would have no merit. The choice would be a foolish one. But, Jesus was no mere man. He was fully human and fully God. He alone holds the power to save us from our persecution.
For there is one God and one mediator between God and men, the man Christ Jesus, who gave himself as a ransom for all men–the testimony given in its proper time.
(1 Timothy 2:5-6 (NIV))
Because He is the only way, the enemy attacks those who call upon the name of Jesus. Think about it. If Satan were not afraid of us living a godly life, would he attack those who follow Jesus?
With all of the uncertainty in the world today, we need to hold fast to the only one who is unchanging. We should be honored when we come under attack for being someone who follows Jesus. The early church faced many hardships and much persecution. We are told that this will come once again as God's plan unfolds to completion. If we hold fast to our faith in Jesus, we will face persecution. We will come under attack!
Are you prepared for this test of faith?
Copyright 1998 – 2021 Dennis J. Smock
Daily Living Ministries, Inc.
http://www.dailylivingministries.org
Support Daily Living Ministries
Subscribe to daily email delivery
Visit us on facebook