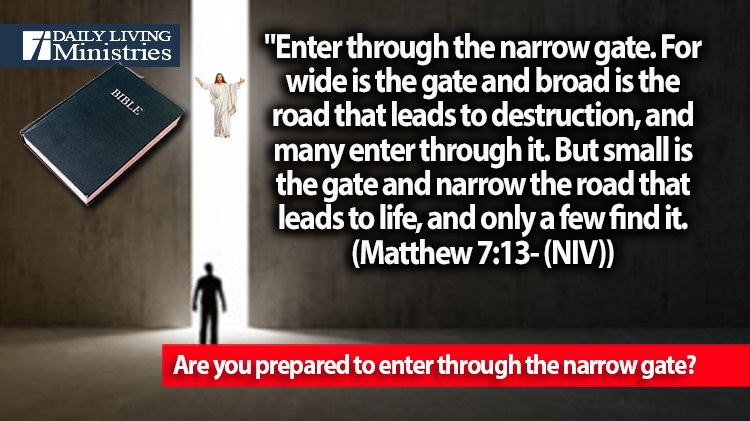 Be Still . . .
Devotionals for Daily Living ©
"Enter through the narrow gate. For wide is the gate and broad is the road that leads to destruction, and many enter through it. But small is the gate and narrow the road that leads to life, and only a few find it.
(Matthew 7:13- (NIV))
Anyone who has professed a faith in Jesus as their personal Lord and Savor knows that Jesus is the narrow gate.
Jesus answered, "I am the way and the truth and the life. No one comes to the Father except through me.
(John 14:6 (NIV))
He is the only way!
No one else or nothing else can save you, or can give you what Jesus can give. We must remember this when we fail to look to Jesus for all that we need, especially when we take a look at the world and what is happening. When the world turns on believers, don't turn away from Jesus. When the enemy attacks, don't turn away from Jesus. When the enemy proclaims that we are to worship him, don't turn away from Jesus!
As followers of Jesus, we are called to stand firm. We are to fix our eyes upon Jesus and never lose sight of Him. We are to clothe ourselves in the full armor of God and stand against the enemy. The enemy will do all that he can do to make you surrender, to make you bow to him. Don't bow to the evil rules and rulers of this world.
Bow only to Jesus! He is the narrow gate!
Are you prepared to enter through the narrow gate?
Copyright 1998 – 2023 Dennis J. Smock
Daily Living Ministries, Inc.
https://www.dailylivingministries.org
Support Daily Living Ministries
Subscribe to daily email delivery
Visit us on facebook