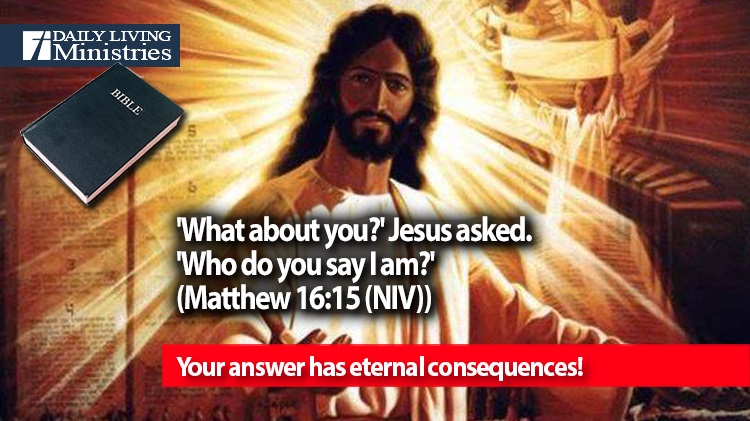 Be Still . . .
Devotionals for Daily Living ©
'What about you?' Jesus asked. 'Who do you say I am?'
(Matthew 16:15 (NIV))
How important is this question in your life?
Perhaps I should ask in this manner. How important is your answer to this question that Jesus asked Simon Peter? How important is your answer to the question that He is asking each and every one of us since that day? There are many different answers that people will give in response to this question.
Do you deny that Jesus ever walked this earth and believe that all of the accounts of His life are simply made up stories? If this is you, I earnestly hope and pray that there are people in your life who are praying for your eyes to be open and your heart to be receptive to the amazing grace offered through Jesus.
Are you one who simply admits that Jesus was a good teacher and nothing more? Is it possible for someone who is only a good teacher to be raised from the dead? Is it possible for someone who is only a good teacher to offer grace and salvation through His death, burial and resurrection? Are you denying the power simply because you find it difficult to believe that someone who was dead is now truly alive? Are you denying the power because you don't see it being manifested in the world today? His miraculous power is all around us. It simply requires a willingness to see what is right before your eyes.
Are you unfortunately like many people and have put off your answer because you don't feel that it is important in your life at this moment in time? Don't fall victim to the lie that you have all the time in the world. You are not guaranteed your next breath!
Are you counted in the numbers of those who have answered as Simon Peter answered?
Simon Peter answered, 'You are the Christ, the Son of the living God.'
(Matthew 16:16 (NIV))
If you have made this profession, was it because you read all of the accounts and found the evidence to be overwhelmingly in support of this decision? Was it due to a spiritual intervention from the Holy Spirit? Was it the result of a moment of desperation when you truly realized that you are a sinner in need of a Savior? Was it the result of the realization of the following truth?
For God so loved the world that he gave his one and only Son, that whoever believes in him shall not perish but have eternal life. For God did not send his Son into the world to condemn the world, but to save the world through him. Whoever believes in him is not condemned, but whoever does not believe stands condemned already because they have not believed in the name of God's one and only Son.
(John 3:16-18 (NIV))
With all of the uncertainty in this world, now is the time to truly seek out the truth and answer this question for yourself. If you are ready to tell Jesus that you truly believe that He is the Christ and that He is the Son of the living God, do it without delay!
Who do you say that Jesus is?
Your answer has eternal consequences!
Copyright 1998 – 2022 Dennis J. Smock
Daily Living Ministries, Inc.
http://www.dailylivingministries.org
Support Daily Living Ministries
Subscribe to daily email delivery
Visit us on facebook