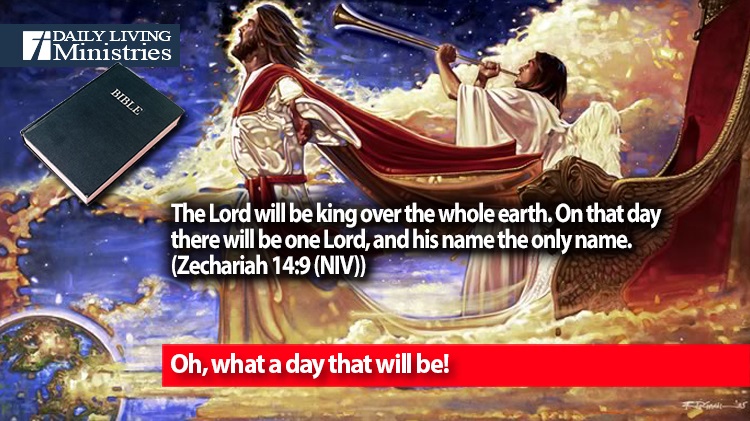 Be Still . . .
Devotionals for Daily Living ©
The Lord will be king over the whole earth. On that day there will be one Lord, and his name the only name.
(Zechariah 14:9 (NIV))
What are your thoughts on this passage?
In all honesty, how you view the day that this speaks of depends completely on how you view Jesus. Zechariah speaks of those who will fight against the Lord at His return. It also speaks of those who will flee from the Lord at His return. If you have truly accepted Jesus as your personal Lord and Savior, then this day will be one of great rejoicing, for the Lord will establish His authority, His kingship, over all of the earth.
Do you long for this day or do you fear this day? Do you eagerly watch and wait for His return or do you go about your life as if His return to deliver justice is only a fairy tale? Do you believe in heaven or do you simply hope that there is no hell? Do you believe that accepting Jesus as your personal Lord and Savior is the only way to salvation, or do you think that all of this is simply the ravings of people who are uneducated?
There are many things that are unfolding in this world that bear a striking similarity to events foretold in God's Word. If you met someone who had a perfect track record when it came to telling events years before they happened, you would probably believe their every word. Why do so many fail to believe when that timeframe is extended to hundreds of years. Think about all of the prophecies in God's Word that have come true. All of them, so far, have been one hundred percent accurate. The chances of all of these occurring by coincidence are staggeringly astronomical, yet they all happened just as foretold. The only ones in question are those that have not been fulfilled as of yet.
Are you looking for the fulfillment of the ones that have not been fulfilled yet?
We should be, for they are the ones that appear to be the beginnings of the birth pains that we have been told of. Are you ready for the birth pains? Are you ready to be on the right side when the Lord returns? It is as easy as ABC.
A is for admit that you are a sinner in need of a savior.
B is for believe in your heart that Jesus Christ died for your sins, was buried, and that God raised Him from the dead.
C is for call upon the name of the Lord Jesus as your Lord and Savior!
Are you truly ready to make this proclamation? "Come, Lord Jesus, come!"
Oh, what a day that will be!
Copyright 1998 – 2022 Dennis J. Smock
Daily Living Ministries, Inc.
http://www.dailylivingministries.org
Support Daily Living Ministries
Subscribe to daily email delivery
Visit us on facebook