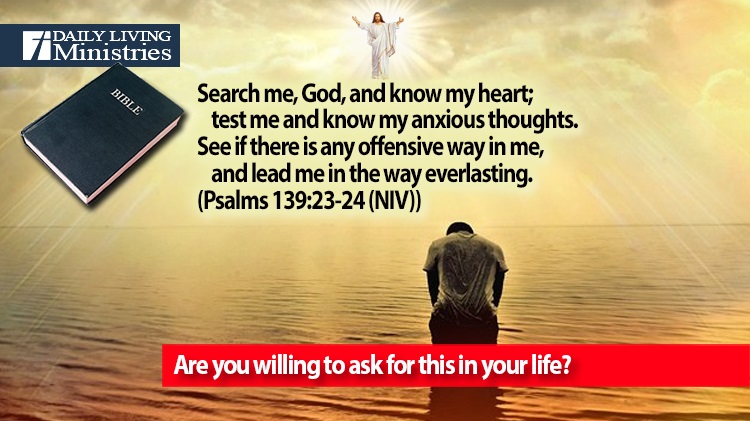 Be Still . . .
Devotionals for Daily Living ©
Search me, God, and know my heart;
     test me and know my anxious thoughts.
See if there is any offensive way in me,
     and lead me in the way everlasting.
(Psalms 139:23-24 (NIV))
Powerful words!
Can you truly say them and mean them?
It takes a very strong and secure faith to be able to not only read these words, but to honestly and sincerely claim them as your own. As sinful humanity, we have a bad tendency to want to keep our darkest secrets hidden. We only let them out in the privacy and security of our secret places. Most of us will never even consider letting our darkest secrets out in public. These words take it one step further by willingly opening up to God, asking Him to search, to test and to make known to us anything that is not righteous in His eyes.
In other words, these words show a heart that desires only the Lord and His righteousness.
Do you possess such a heart?
We all like to think that we do, but we all have things that we still like to keep hidden. We all have things that we just don't want to let go of. It all comes down to a single, important question. Do you love your sin more than you love His righteousness?
These words from the psalmist should be read as a prayer. In fact, they should be personalized and internalized so that they literally become our own desires. We should approach the Lord asking Him to search us so that He can make the hidden desires of our hearts known. We should pray this not so that we can be exposed, but so that we can recognize, repent and mature in all righteousness as we grow in our faith. If we are to stand firm in the face of the enemy, we must be able to know our sins before the enemy makes them his point of attack.
The world is rapidly becoming something that we need to stand firm against. People who profess a faith in Jesus are becoming the ostracized. We are under attack.
Blessed are those who are persecuted because of righteousness,
     for theirs is the kingdom of heaven.
"Blessed are you when people insult you, persecute you and falsely say all kinds of evil against you because of me. Rejoice and be glad, because great is your reward in heaven, for in the same way they persecuted the prophets who were before you.
(Matthew 5:10-12 (NIV))
We have a choice to make. We can allow the world to control our hearts, our minds and our actions, or we can seek the Lord and allow Him to lead us and guide us as we face the things of this world.
Are you willing to ask for this in your life?
Copyright 1998 – 2023 Dennis J. Smock
Daily Living Ministries, Inc.
https://www.dailylivingministries.org
Support Daily Living Ministries
Subscribe to daily email delivery
Visit us on facebook