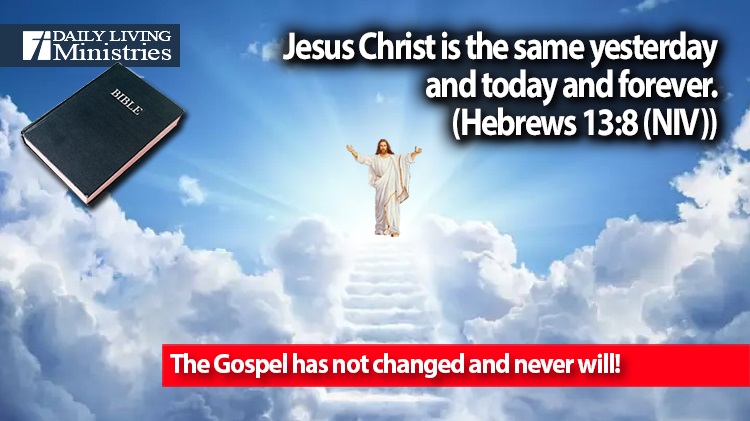 Be Still . . .
Devotionals for Daily Living ©
Jesus Christ is the same yesterday and today and forever.
(Hebrews 13:8 (NIV))
Do you grow tired of the world always trying to find a new way to achieve perfection, to achieve a sense that humanity is the master of our own destiny? Just when one thing has been tried and ends up failing to produce the results that people want, someone else comes up with something else to try. We see it in diets. We see it in self-help. We see it in education. We even see it in the progressive churches when they try to reinvent and reinterpret God's Word and Jesus to fit what they want instead of fitting their lives to His truth.
If you seek to mature in your faith in Jesus, then your understanding of Jesus has changed since you first accepted Jesus as your personal Lord and Savior. My question for you is has your understanding of Jesus followed the world's attempts to reinvent and reinterpret, or has your understanding solidified in accordance to God's Word?
Jesus came into this world to call sinners to repentance. He did not come into this world to tell us that our sinful natures are acceptable as they are.
Jesus came into this world to arm those who accept Him as their person Lord and Savior with the truth needed to combat the lies of the enemy. He did not come into this world to tell us that we can do whatever we want.
Jesus came into this world to offer God's grace and salvation to those who would accept. He did not come into this world to be a social justice warrior.
What is your image of Jesus?
What is that image of Jesus based on?
Is your understanding of Jesus the same as that of the authors of the Gospels, and not just a few misquoted passages?
If you truly desire to know the real Jesus, then find a church that preaches the Word. Develop the discipline required to spend time daily in His Word. Mature in your faith and in your commitment. Search the scriptures and test everything that you hear to see if it is true.
Now the Berean Jews were of more noble character than those in Thessalonica, for they received the message with great eagerness and examined the Scriptures every day to see if what Paul said was true.
(Acts 17:11 (NIV))
I pray that you mature in your faith to be like the Berean Jews. Eagerly receive and eagerly study. You may surprise yourself when you start to truly understand Jesus and the simple fact that He never changes. What He taught when He walked this earth is the same thing that we are called to do today!
The Gospel has not changed and never will!
Copyright 1998 – 2022 Dennis J. Smock
Daily Living Ministries, Inc.
http://www.dailylivingministries.org
Support Daily Living Ministries
Subscribe to daily email delivery
Visit us on facebook