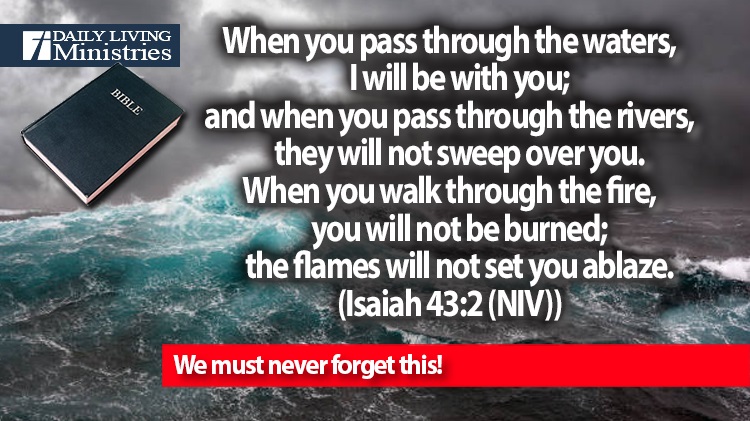 Be Still . . .
Devotionals for Daily Living ©
When you pass through the waters,
     I will be with you;
and when you pass through the rivers,
     they will not sweep over you.
When you walk through the fire,
     you will not be burned;
     the flames will not set you ablaze.
(Isaiah 43:2 (NIV))
Do you ever feel that you are being led down a path and you have to stop and reflect on where you are being led?
For the last several years I have been led to scripture passages that tell us we have nothing to fear as long as we put our faith and trust in the Lord! This all started long before the pandemic. I firmly believe that this is true, and if you profess a faith in Jesus as your personal Lord and Savior, I pray that you believe this as well. There is something within me that knows that this world will never return to what we considered to be normal just a few short years ago. We are on a path that was set out before us long ago. This is a path that God has had planned ever since the fall from grace in the Garden of Eden. He knew that we had fallen into sin. The Lord knew that we could not save ourselves from the consequences of our sins. He knew that we needed a Savior to step in and fully take the consequences of our sin upon His shoulders. He knew that people would believe in faith. He also knew that the enemy would do all in his power to thwart His plan.
Old Testament prophets knew this. The Disciples knew this. Paul knew this.
Do we, as the modern church, still know this?
There is power in the name of Jesus. A time is coming where at the name of Jesus every knee will bow and every tongue confess that He is Lord. Why do we go about our daily lives as if we don't have a powerful Savior? Why do we go about our daily lives thinking that our salvation is only powerful to save us from hell when we die? Why do we think that we are to have a comfortable life because we have professed a faith in Jesus?
We have been told that calling upon the name of the Lord comes with a cost. We are told that family members will turn against you. We are told that we will face persecution. We are told that we will face trials and troubles because the world hates Jesus.
"I have told you these things, so that in me you may have peace. In this world you will have trouble. But take heart! I have overcome the world."
(John 16:33 (NIV))
What other options do we have? I pray that your answer will be the same as Simon Peter's when the Disciples were asked if they wanted to leave.
"You do not want to leave too, do you?" Jesus asked the Twelve.
Simon Peter answered him, "Lord, to whom shall we go? You have the words of eternal life. We have come to believe and to know that you are the Holy One of God."
(John 6:67-69 (NIV))
We can rest assured that our faith in Jesus is the only thing that will save us in times of trouble, both now and whatever may be coming. Are you fully secure in your faith? Do you know beyond any doubt that the Lord will see you through anything and everything that you may encounter. It is who He is. It is as He has promised.
We must never forget this!
Copyright 1998 – 2022 Dennis J. Smock
Daily Living Ministries, Inc.
https://www.dailylivingministries.org
Support Daily Living Ministries
Subscribe to daily email delivery
Visit us on facebook