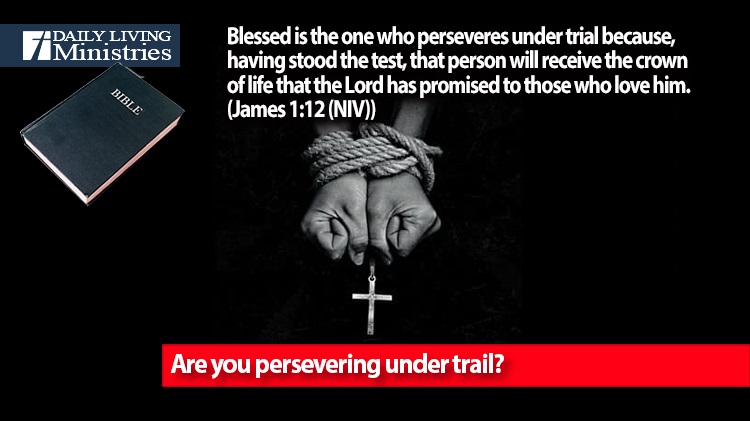 Be Still . . .
Devotionals for Daily Living ©
Blessed is the one who perseveres under trial because, having stood the test, that person will receive the crown of life that the Lord has promised to those who love him.
(James 1:12 (NIV))
I was looking through passages for today's devotional and this is the first thing that came up as if I was being led to it. I read the passage and I knew that this passage had been the basis of a devotional before. I did a search for it and what I found made me pause. Not only had this passage come to the forefront for today's devotional, I also found that it had been the subject exactly one year ago today! Then, I was led to ask if you were ready to persevere.
As a believer, I firmly stand on the precept that there are no such things as coincidences. God unfolds, God presents, what He wants us to know when He wants us to know it. With that said, is God telling us to keep persevering through what is currently unfolding and what will be unfolding in this world? I firmly believe that is the case as we see things move from a global pandemic to the threat of nuclear war. We must realize that through all of this, God is still in control. Nothing that is happening is a surprise to our God. He is not panicking, so why should we?
We have been told of wars and rumors of wars. We have been told of nations rising against nations. We have been told of a global "pharmakeia" deception. We have been told all of this and so much more and we are seeing it unfold!
With all that is going on in the world, are you at peace?
"I have told you these things, so that in me you may have peace. In this world you will have trouble. But take heart! I have overcome the world."
(John 16:33 (NIV))
I don't know about you, but I plan to keep my eyes focused on the one who told us these things would happen. I plan to keep my eyes focused on Jesus! It is my prayer that I am able to persevere in my faith no matter what trial, no matter what test that I may face. Is this your prayer?
Are you persevering under trial?
Copyright 1998 – 2022 Dennis J. Smock
Daily Living Ministries, Inc.
http://www.dailylivingministries.org
Support Daily Living Ministries
Subscribe to daily email delivery
Visit us on facebook