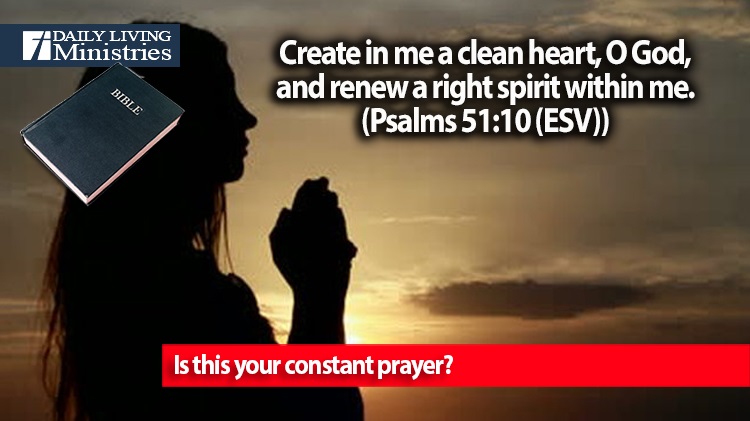 Be Still . . .
Devotionals for Daily Living ©
Create in me a clean heart, O God, and renew a right spirit within me.
(Psalms 51:10 (ESV))
David expressed these words after he had sinned against God by committing adultery with Bathsheba.
We take this passage and put joyful music to it, but in all honesty, all of Psalm 51 was a lamentation from the heart of David.
Have mercy on me, O God,
     according to your steadfast love;
according to your abundant mercy
     blot out my transgressions.
Wash me thoroughly from my iniquity,
     and cleanse me from my sin!
(Psalm 51:1-2 (ESV))
David was pleading with God to forgive him for what he had done. His sin weighed heavily upon him.
For I know my transgressions,
     and my sin is ever before me.
(Psalm 51:3 (ESV))
He couldn't stop thinking about what he had done. He couldn't forgive himself for his actions.
It is said that David was a man after God's own heart, and once he realized what he had done, it broke his heart for he knew that it broke God's heart.
With this in mind, I want you to take a serious look at your life. Have there ever been times in your life where you pleaded with God in such a manner? Have there ever been times in your life where you knew that you had failed miserably and all that you could do was hang your head in sorrow and shame? Have you ever felt helpless, hopeless and lost?
Thankfully, we don't have to remain in that state. We can approach God and repent of what we have done. We even have it easier than David did. We have been given grace and mercy through Jesus on the cross. We can approach the throne of God through Jesus, for, if we profess a faith in Jesus as our Lord and Savior, we have been bought by the blood of the lamb! If this is you, then you can turn the words that David wrote into the joyful music that we know.
Create in me a clean heart, O God, and renew a right spirit within me.
(Psalm 51:10 (ESV))
This should be our attitude every single day!
Is this your constant prayer?
Copyright 1998 – 2023 Dennis J. Smock
Daily Living Ministries, Inc.
https://www.dailylivingministries.org
Support Daily Living Ministries
Subscribe to daily email delivery
Visit us on facebook