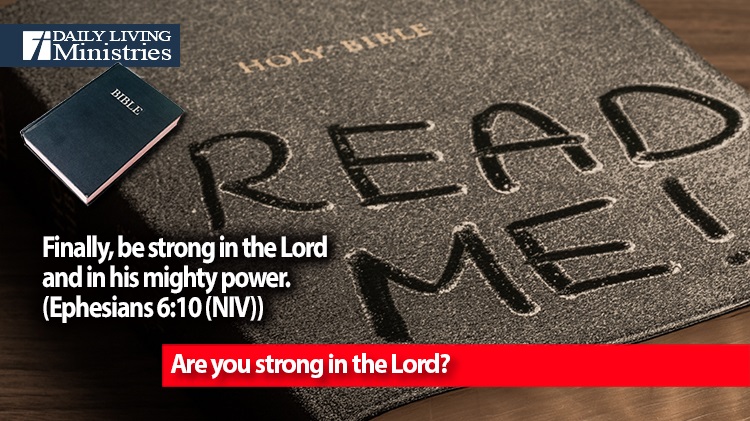 Be Still . . .
Devotionals for Daily Living ©
Finally, be strong in the Lord and in his mighty power.
(Ephesians 6:10 (NIV))
Do you consider yourself to be strong?
I realize that is a very vague question, especially when you consider that you can be physically strong, emotionally strong, spiritually strong, and financially strong, just to name a few. With that in mind, perhaps the better question is where do your strengths lie? Did you find yourself thinking that you are pretty good at this or that, only to be reminded that what you were thinking of is not something that you can do at full perfection, at full strength, every single moment of your life? Did this lead to a life altering conclusion in which you admitted to yourself that you are not as strong as you thought you were?
Keep in mind that it takes a strong person to admit that they are weak!
Have you truly considered that in order to be strong in the Lord, you have to admit that you are weak and in need of His strength? I honestly believe that this works the exact same way as when we admitted that we were a sinner in need of a Savior. We can't do it on our own. Our strength is not sufficient! We must come to the conclusion that we must rely on a power that is far greater than we could ever be.
Our strength comes when we admit that we must fully rely on the Lord for everything that we do. Our strength comes when we admit that we truly are a sinner in need of a Savior. Our strength comes when we admit that we cannot face this world without Him.
"I have told you these things, so that in me you may have peace. In this world you will have trouble. But take heart! I have overcome the world."
(John 16:33 (NIV))
Do you fully rely on the Lord to overcome this world?
What else do you fully rely on the Lord for?
Do you cling to the words that Paul wrote to the church at Corinth?
But he said to me, "My grace is sufficient for you, for my power is made perfect in weakness." Therefore I will boast all the more gladly about my weaknesses, so that Christ's power may rest on me. That is why, for Christ's sake, I delight in weaknesses, in insults, in hardships, in persecutions, in difficulties. For when I am weak, then I am strong.
(2 Corinthians 12:9-10 (NIV))
Are you strong in the Lord?
Copyright 1998 – 2022 Dennis J. Smock
Daily Living Ministries, Inc.
http://www.dailylivingministries.org
Support Daily Living Ministries
Subscribe to daily email delivery
Visit us on facebook