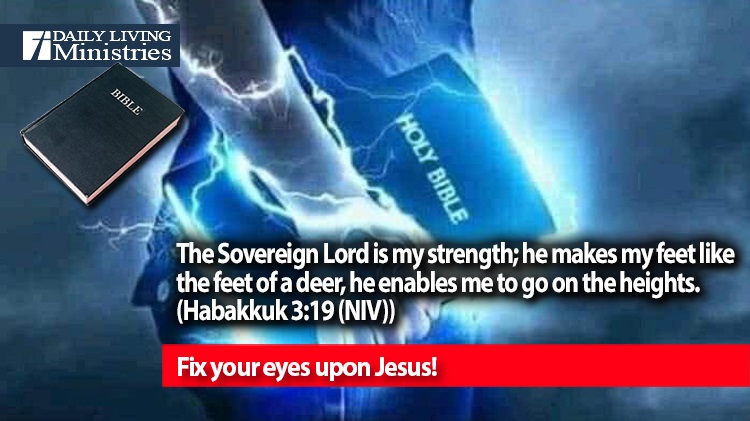 Be Still . . .
Devotionals for Daily Living ©
The Sovereign Lord is my strength; he makes my feet like the feet of a deer, he enables me to go on the heights.
(Habakkuk 3:19 (NIV))
Do you ever feel like the weight of the world is crashing in on you? If you are like most people, that has grown exponentially over the last few years. When this happens, and yes, it happens even to believers, what do you do? Do you have a favorite scripture passage that restores the peace and the calm? Do you go into your prayer closet? Do you listen to a favorite song? Do you pick up God's Word and dive into the truths that it contains? Do you fully embrace that Jesus is still with you and is walking with you through all of your troubles?
"I have told you these things, so that in me you may have peace. In this world you will have trouble. But take heart! I have overcome the world."
(John 16:33 (NIV))
Human history has been full of troubles. Many people who study prophecy believe that these troubles are now escalating and converging to the point where we can see the unfulfilled prophecies being fulfilled very rapidly. If this is true, then we must rely on the Lord as our strength, for it will be more than we can bear. If these events are still years down the road, we still must rely on the Lord as our strength, for the current state of the world is very troubling now and will only get worse.
Is the Lord your strength?
Do you find joy in knowing that He is in control? Do you find peace in knowing that there is absolutely nothing that happens in this world that He does not know about? In other words, He knows the end from the beginning! We have nothing to fear. We have no reason to be downcast and disturbed because He is our strength.
Why, my soul, are you downcast?
      Why so disturbed within me?
Put your hope in God,
      for I will yet praise him,
      my Savior and my God.
(Psalm 42:5 (NIV))
When you are feeling like the weight of the world is making you downcast, look up! Our Lord is our perfect strength. We must look to Him. I find hope and strength that one day when I look up, I will see Him coming for His bride, for those who call upon His name as Lord and Savior!
Fix your eyes upon Jesus!
Copyright 1998 – 2022 Dennis J. Smock
Daily Living Ministries, Inc.
http://www.dailylivingministries.org
Support Daily Living Ministries
Subscribe to daily email delivery
Visit us on facebook