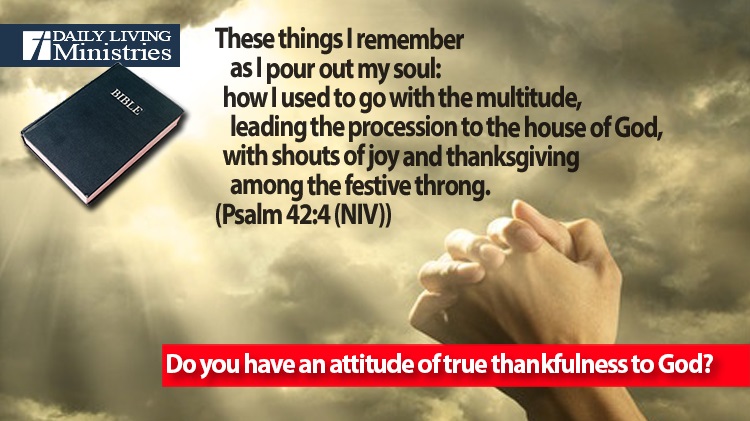 Be Still . . .
Devotionals for Daily Living ©
These things I remember
      as I pour out my soul:
   how I used to go with the multitude,
      leading the procession to the house of God,
   with shouts of joy and thanksgiving
      among the festive throng.
(Psalms 42:4 (NIV))
David gave God thanks for all that God had given to him. With the upcoming holiday that we celebrate as a nation, we must not forget that giving thanks to God goes back farther than the Pilgrims. People have been thankful to God for centuries. In our day and time, giving thanks has turned into just another excuse to take a day off from work and relax. On this upcoming Thanksgiving Day, let us truly be thankful for all that God has bestowed upon us even though we are not worthy of any of it.
Let Thanksgiving Day be the start of a new attitude. An attitude of true thankfulness to God.
Do you have an attitude of true thankfulness to God?
Copyright 1998 – 2021 Dennis J. Smock
Daily Living Ministries, Inc.
http://www.dailylivingministries.org
Support Daily Living Ministries
Subscribe to daily email delivery
Visit us on facebook