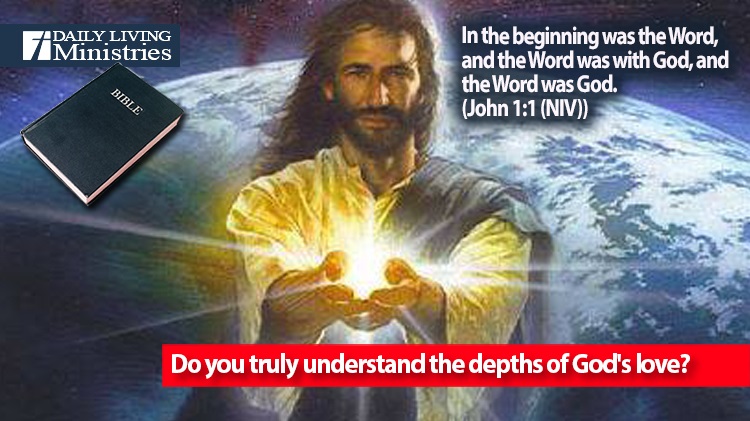 Be Still . . .
Devotionals for Daily Living ©
In the beginning was the Word, and the Word was with God, and the Word was God.
(John 1:1 (NIV))
Is this concept so simple that we try to make it complicated? Is it so complicated that we try to make it simple, or is it truly clear and understandable?
I have read this passage many times and I have come to the conclusion that is is only truly understood once you have accepted Jesus as your personal Lord and Savior. Up until that time, it seems paradoxical in nature. Up until that time, the very message that is conveyed within these words simply falls on deaf ears. We have no point of reference to allow us to understand.
We cannot comprehend the truth that nothing existed except His Word, and that through His Word, everything came to be. We simply cannot comprehend the truth that through words alone God spoke everything into existence. We cannot understand that there is this type of power in God's Word. We cannot fathom the possibilities that this is true simply because we fail to see the power of words in our lives. Think about that. When was the last time dreams were shattered by someone's words? When was the last time that your life was completely changed by someone's words? If our words can alter lives, why do we fail to recognize that God's Word has the power to create lives and to create everything?
To get back to my statement that these words truly become understood only after accepting Jesus as your personal Lord and Savior, you have to understand just who Jesus is!
The Word became flesh and made his dwelling among us. We have seen his glory, the glory of the one and only Son, who came from the Father, full of grace and truth.
(John 1:14 (NIV))
In other words, Jesus is God's Word made flesh! To simplify this, let's use some mathematical symbolism. Jesus = the Word.
Only when you realize that you can do simple substitution because of this fact do you truly come to the following realization.
In the beginning was Jesus, and Jesus was with God, and Jesus was God.
This should put a completely new understanding on a passage that we all know.
For God so loved the world that he gave his one and only Son, that whoever believes in him shall not perish but have eternal life. For God did not send his Son into the world to condemn the world, but to save the world through him. Whoever believes in him is not condemned, but whoever does not believe stands condemned already because they have not believed in the name of God's one and only Son.
(John 3:16-18 (NIV))
I pray that this gives you something to think about as we enter into this Christmas season.
Do you truly understand the depths of God's love?
Copyright 1998 – 2021 Dennis J. Smock
Daily Living Ministries, Inc.
http://www.dailylivingministries.org
Support Daily Living Ministries
Subscribe to daily email delivery
Visit us on facebook