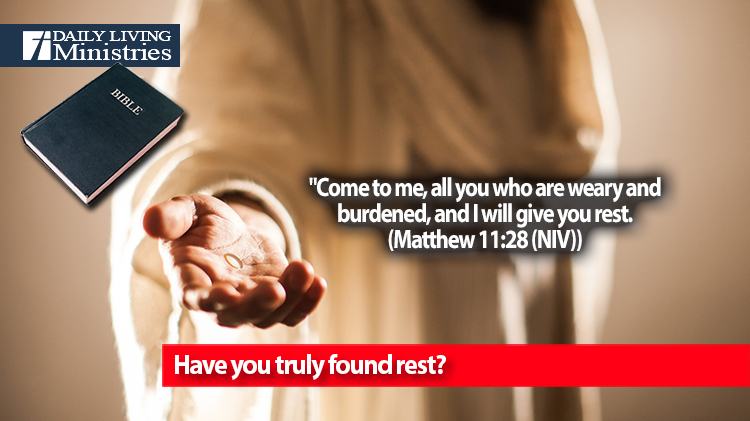 Be Still . . .
Devotionals for Daily Living ©
"Come to me, all you who are weary and burdened, and I will give you rest.
(Matthew 11:28 (NIV))
Weary and burdened!
Do these two words describe you?
To be honest with you, these two words probably describe the majority of people in the world after living through the events of the last several years. Even if you don't profess a faith in Jesus as your personal Lord and Savior, it is extremely easy to give recognition to the fact that something is not right in the world today. People used to have common sense. Now, common sense is far from common. People used to be able to agree that the principles conveyed in the Ten Commandments were good and true. Now, if you try to say that stealing is wrong or that murder is wrong, you are blatantly told that what you claim to be truth is not the truth for everyone. We used to be able to disagree on things and still be friends. Now, if you disagree with someone, you are cast away and discarded like you were a mortal enemy. If you try to tell someone about Jesus, you are told to "EXPLETIVE"-off. What happened to our society? What happened to our world?
With all of this, it is so easy to become weary and burdened. In fact, most people do not have any idea just how far things will go and what is rapidly coming. To be honest with you, neither do I, but I do have a peace that passes all understanding. I am at rest because I know who holds the future even when the future is so uncertain.
I have placed my faith in Jesus!
He is my rock. He is my fortress. He is my firm foundation. I have placed all faith, hope and trust in Him alone. I have accepted His offer to trade burdens. He has willingly taken my burdens, my sins and my problems, and I have been given His grace and His mercy. I am no longer yoked with the weight of my sins, this world, or the worries of what is to come.
Take my yoke upon you and learn from me, for I am gentle and humble in heart, and you will find rest for your souls. For my yoke is easy and my burden is light."
(Matthew 11:29-30 (NIV))
I hear news stories of things unfolding. I read accounts of the world's unrighteousness. I witness firsthand the wars and rumors of wars. I see nations rise against nation. I see all of this and so much more, yet, I still have a peace. Even with all that is going on in the world, I know who wins in the end. I don't have to worry about tomorrow. I have truly found peace and rest.
Have you truly found rest?
Copyright 1998 – 2022 Dennis J. Smock
Daily Living Ministries, Inc.
https://www.dailylivingministries.org
Support Daily Living Ministries
Subscribe to daily email delivery
Visit us on facebook